If you're coming to Arran and staying at our B&B and fancy doing some running (or walking), then here are a few routes you can do from the house. Some are long, but can be split up. Here's a quick list:
Glen Sannox to Brodick (9 miles)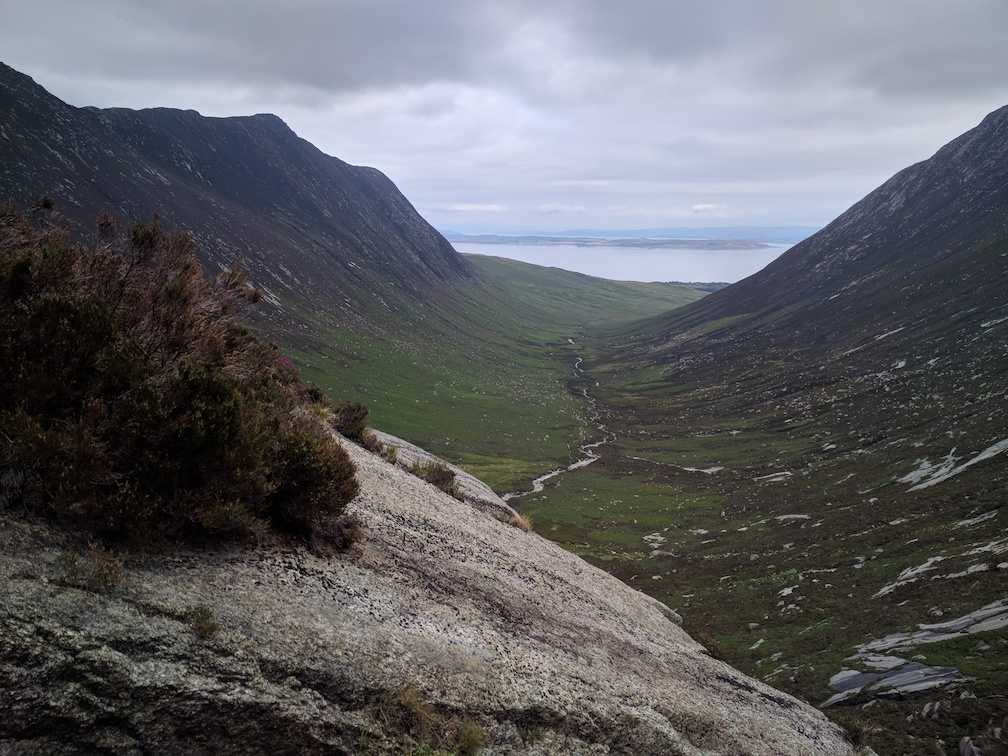 The path up Glen Sannox is amazing. As you meander by some old ruins, a graveyard and over some streams the Glen opens up with steep mountain faces either side. The Saddle between Glen Rosa and Glen Sannox is straight ahead.
The run up Glen Sannox is deceptively hard. It's slightly up hill with a gradual increase in inclination as you go. By the time you get to the base of The Saddle it feels like you've done some hard work, which you have!
Then you've got to scramble up The Saddle approximately 200m in elevation gain and navigate Whin Dyke (below). As they say, the views are rewarding. It was hot and muggy today, so when passing a few walkers who said "it's a bit hot for running" I was beginning to agree.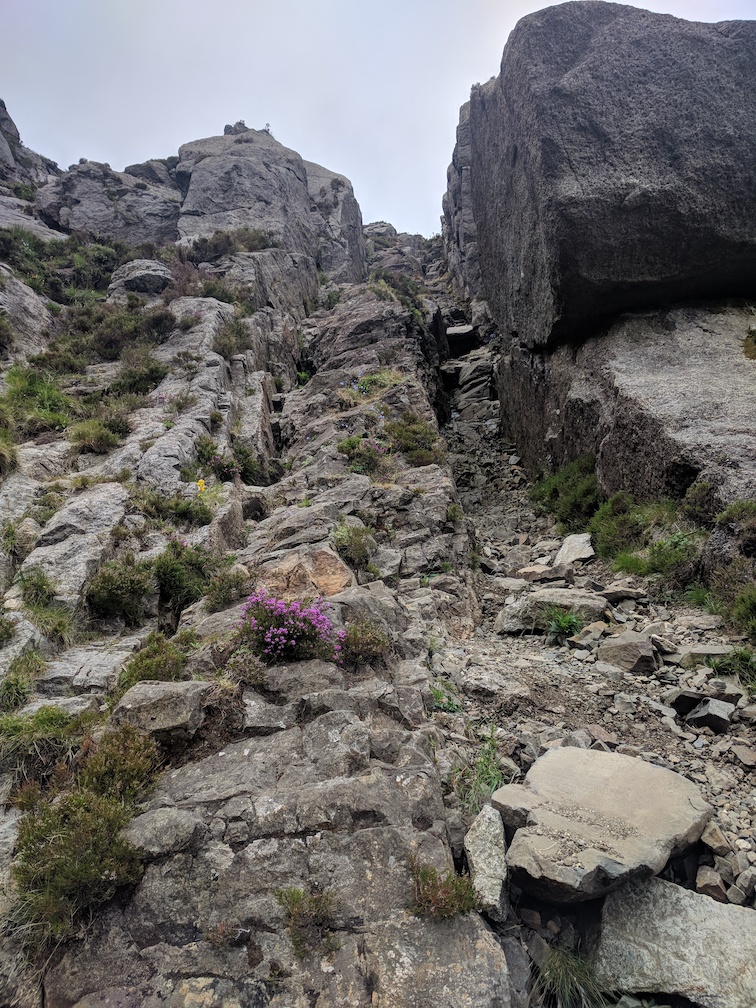 Once you're at the top of The Saddle the views are stunning and the Isle of Bute can be seen very clearly. Unlike Goatfell, which was hiding behind some cloud.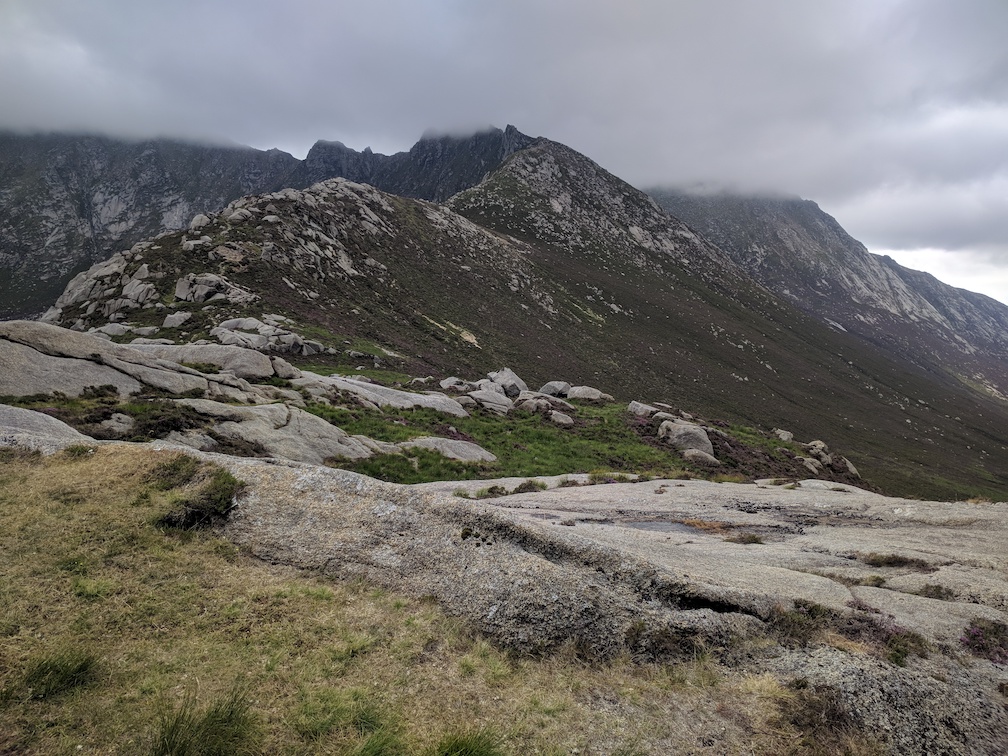 The quickest way to Brodick is down Glen Rosa from The Saddle, which is very enjoyable. Like many of the paths in this area, you need to concentrate, as there are rocks and boulders everywhere.
Marching on by the campsite after Glen Rosa you arrive at Brodick, a good place to stop and get the bus back to Sannox. Or even visit the Coop for a top up of water.
There are couple of ways to Lamlash from here (see coastal path below). An inland route is via Fairy Glen, which is mostly uphill from Brodick towards Lamlash, but a much easier track to run on than Glen Sannox and Glen Rosa.
A few miles up Fairy Glen, you are rewarded with a view back to the mountains and where you've come from. The photo says it all…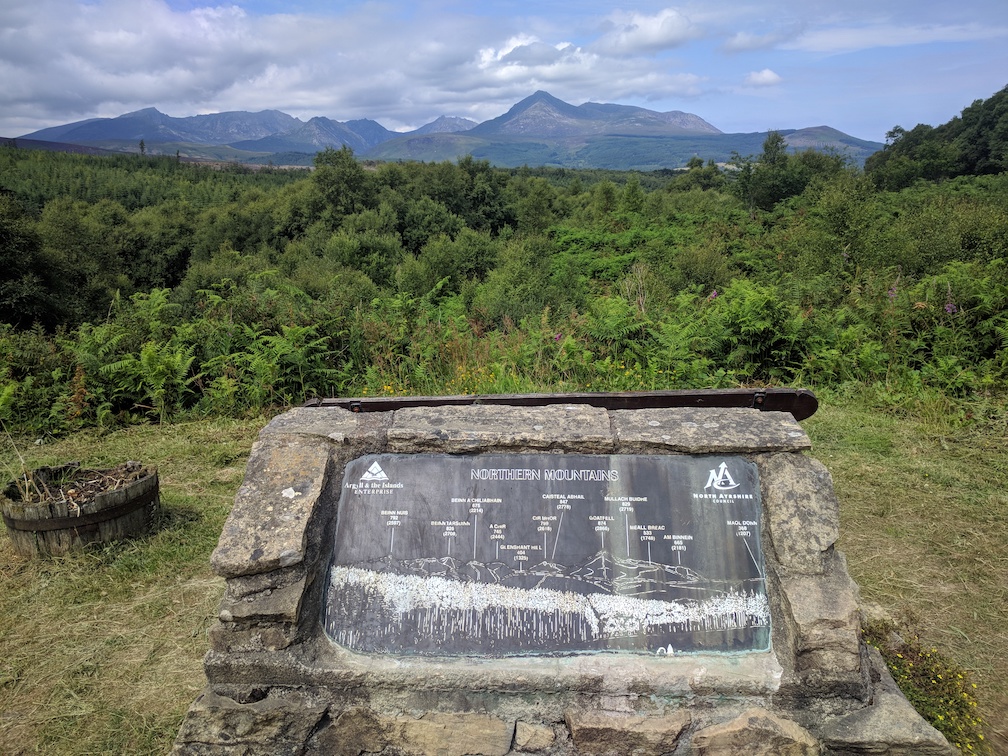 The total distance from Sannox to Lamlash via this route is around 12 miles. A good place to refuel is the Drift Inn, which has some good vegan options.
Sannox to Lochranza (8.5 miles)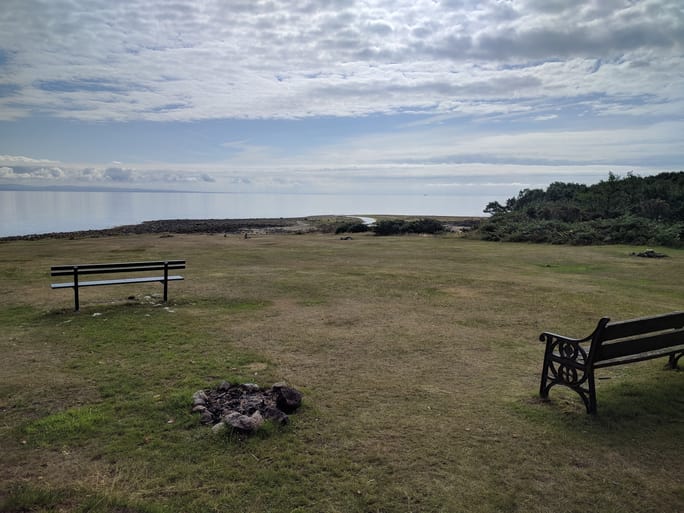 The Arran coastal route along past North Sannox to Laggan Cottage is stunning and a popular but remote area of Arran. From Laggan Cottage, you get the option of carrying on along the coast (see here), which is pretty rocky, or going up hill and over into Lochranza. Some photos of the latter are below.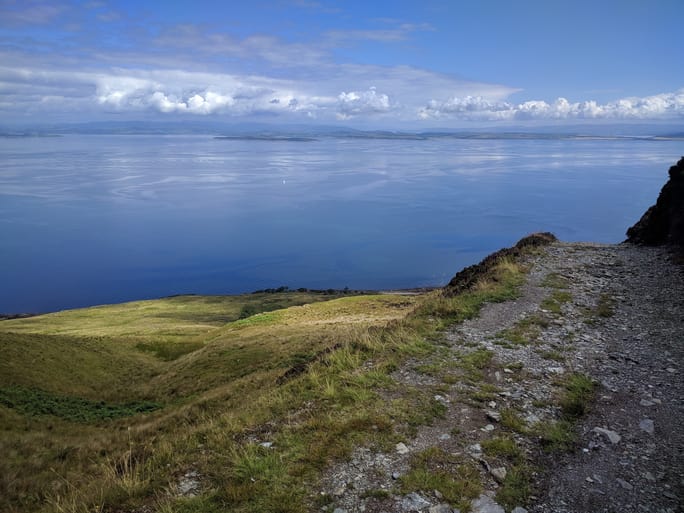 As you get over the hill, you see the Arran mountain range to your left (south). And a bit further on the Boguille appears – the road that connects Lochranza to Sannox.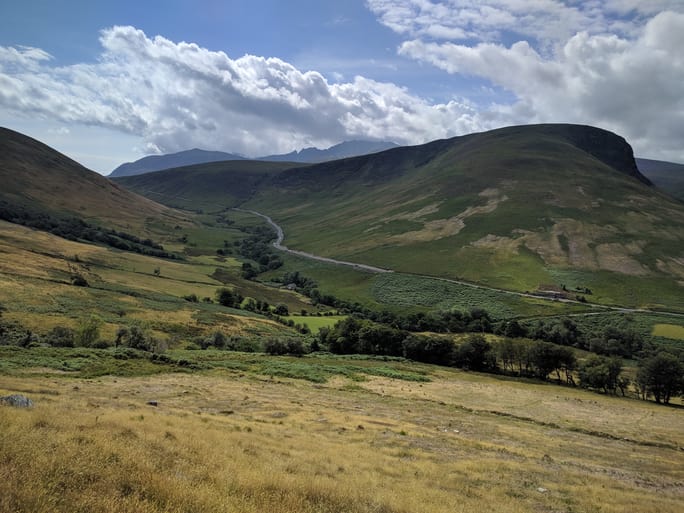 Running all the way down to Lochranza from Sannox is around 8.5 miles, so it's a long one there and back. You can get the bus back from Lochranza too. Don't forget to stop off at the Sandwich Station if you need some grub.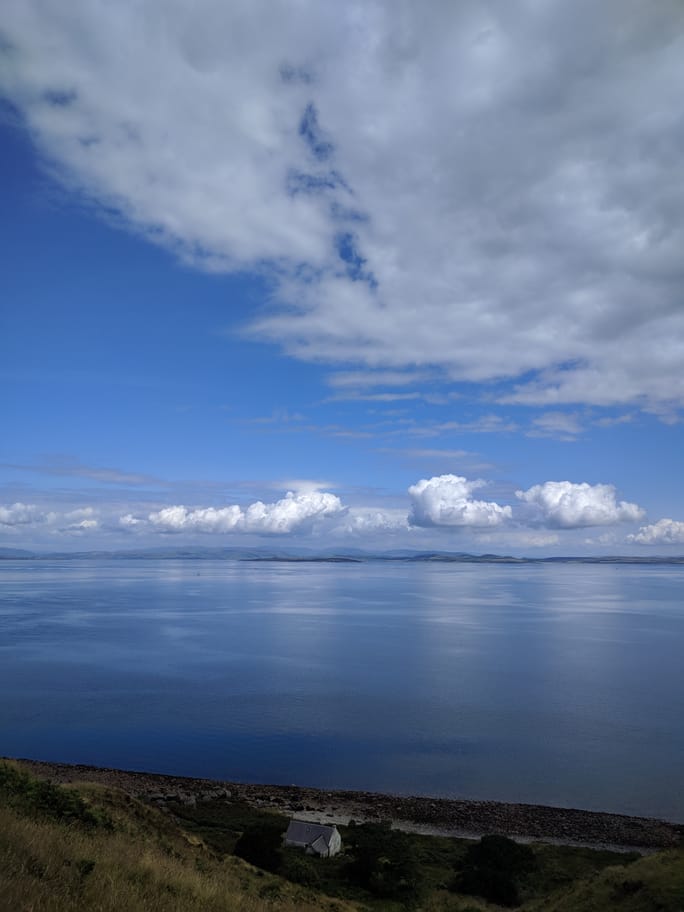 Lochranza to Lamlash via The Saddle (22 miles)
The 22-miler from Lochranza to Lamlash via The Saddle is a cracker of a run and although technical in places there are a few rest places and view points.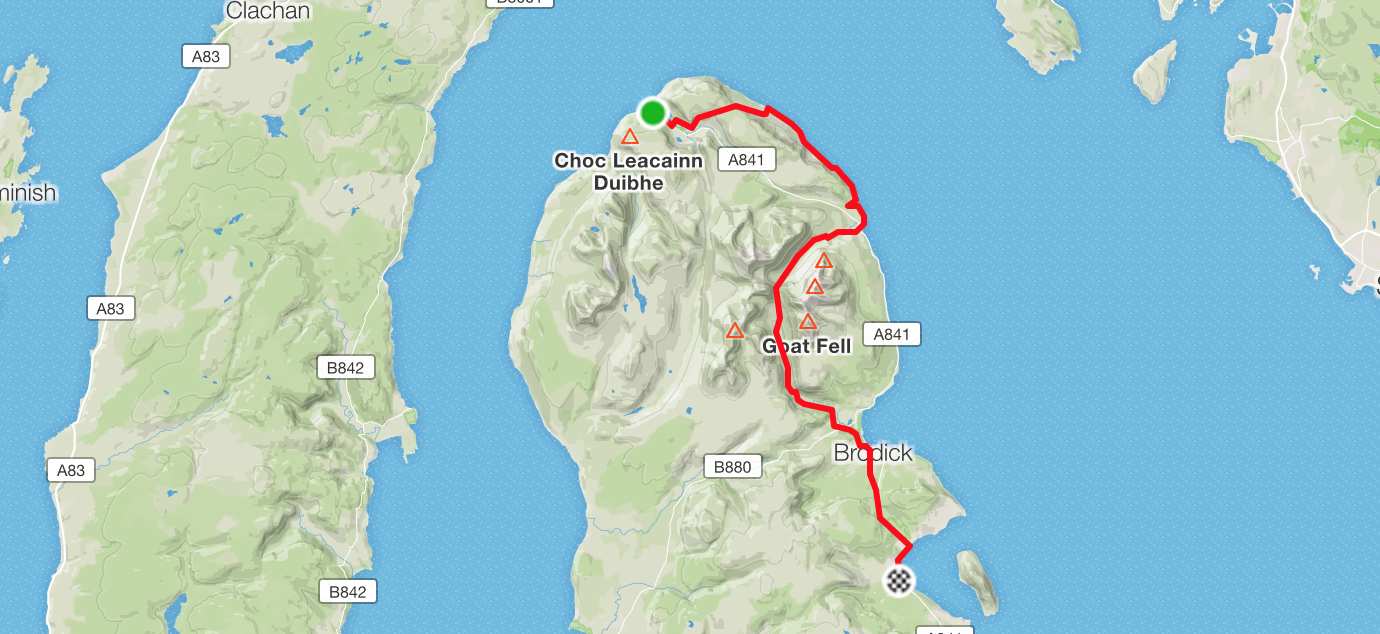 Start off in Lochranza head over the hill towards Laggan Cottage (see above). In early morning, there can be some mist on the hills and you'll normally see some stags. All very mystical and Scottish.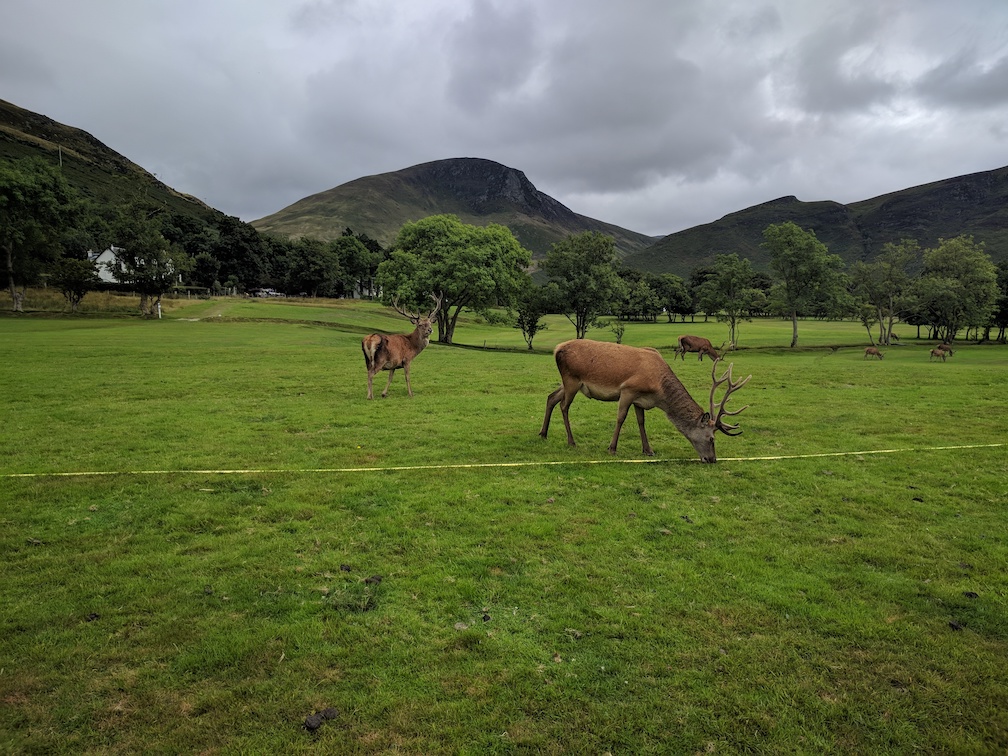 Heading down the coast towards Sannox, head up Glen Sannox and over The Saddle; a nice stretch of running until you hit The Saddle – or rather, before The Saddle hits you…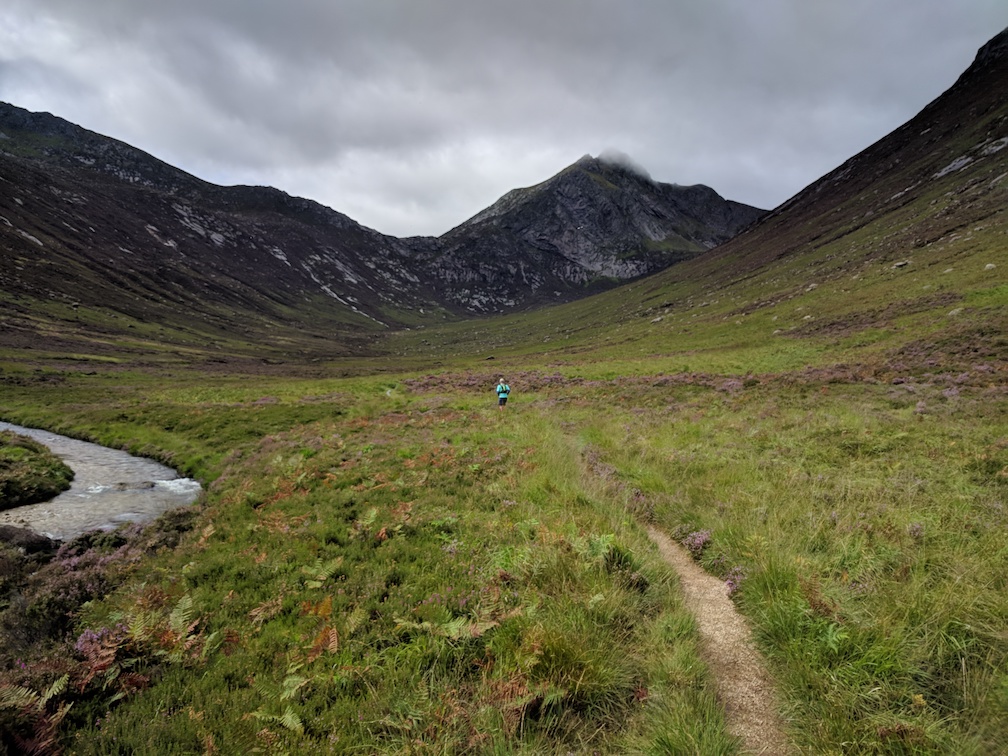 Making our way down Glen Rosa and by the campsite stop in Brodick for a top up of water and then either head to Lamlash via Fairy Glen (See above) or via the costal path (see below).
Brodick to Lamlash via the costal path (9.5 miles)
Head out of Brodick and up to Corriegills chopping off left through North Corriegills and on to the coastal path.
The path is a bit mixed once you get on to the coastal path, so it can be difficult to get some rhythm going. It is a bit bouldery in places but enjoyable.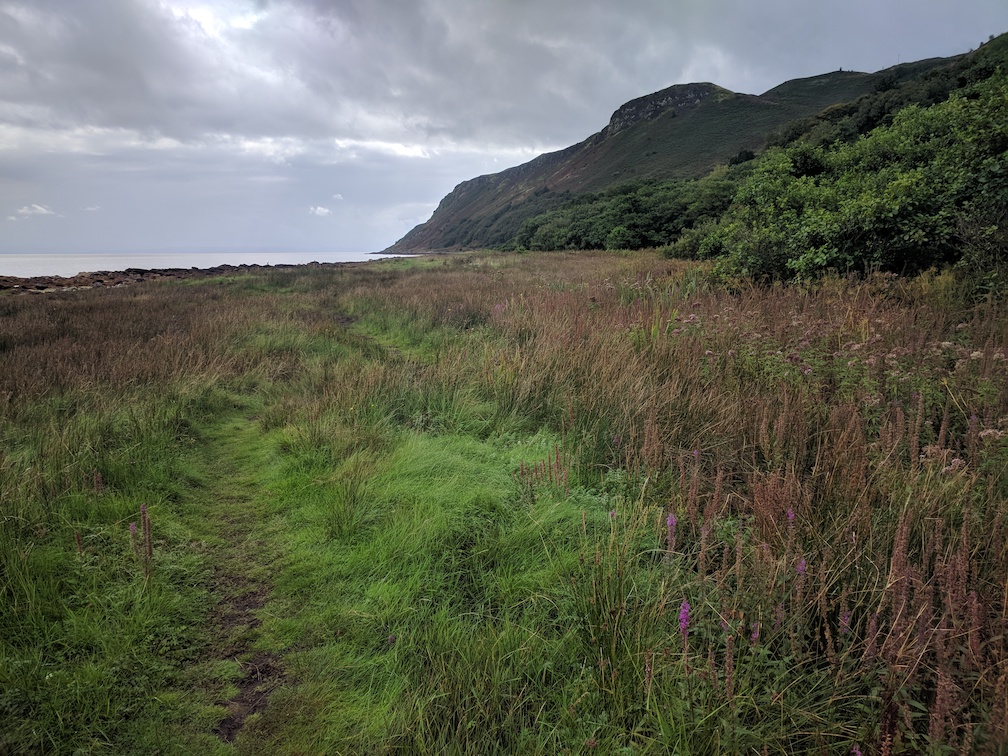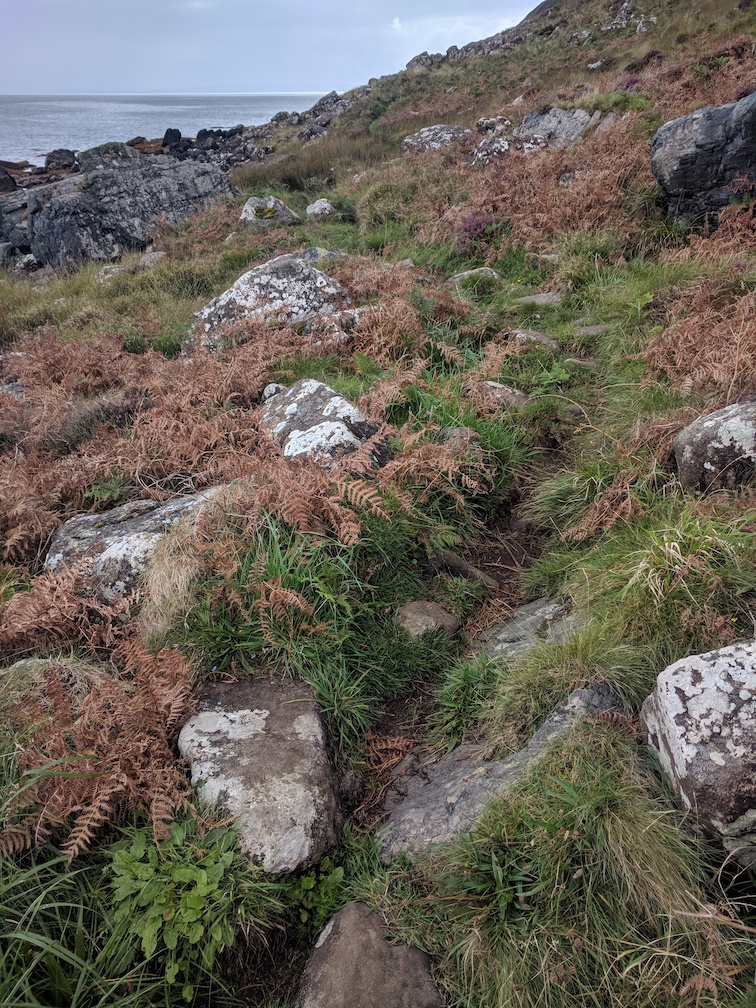 Once you get to the junction that takes you right up to Clauchland Hills or straight on around the coast to Lamlash the terrain gets easier – or more runnable. It's not that difficult to walk; just tricky to run on.
At this point you can head to Clauchland Hills and then down on to Fairy Glen that will take you back to Brodick and then Sannox. Or you can keep on the coastal path and into Lamlash.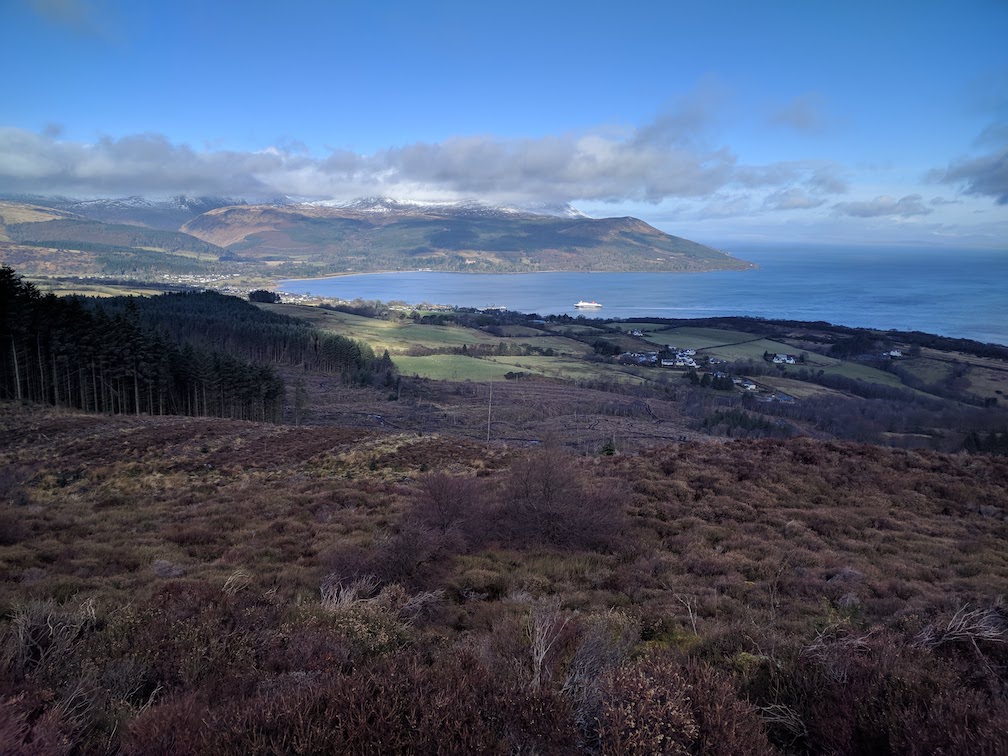 Glen Sannox to Goat Fell and back (13 miles)
Start your run at Glen Sannox (see above for more details) and keep going until you can't run any more. You're at the base of The Saddle.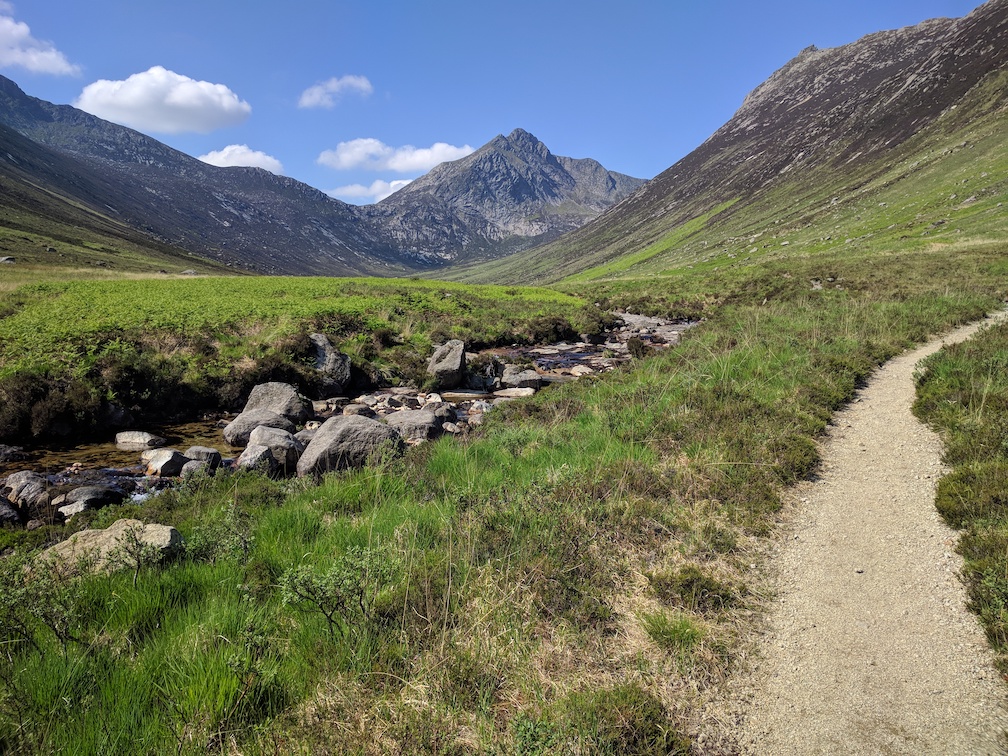 From the main road in Sannox to the base of The Saddle it's about 2.5 miles and only slightly up hill. You can bike it there too if you want.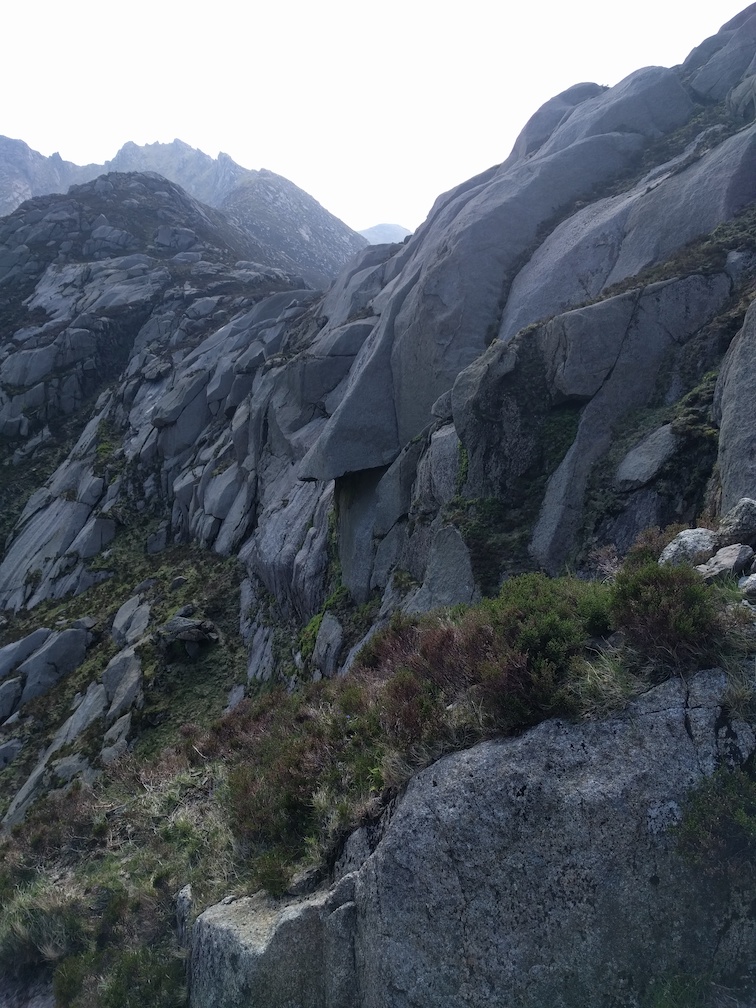 There are different entry points to Goat Fell. From Glen Sannox, the climb to The Saddle is one of the more challenging sections. The toughest section is the narrow corridor that you need to climb up. It's a good scramble – any steeper and you might need ropes! This selection is called Whin Dyke. Here's some photos on Google to give you the gist.
As you'll see, you can't run it. And if it is raining or wet then it would be much, much harder.
You are not exposed at this section like some other parts of the trail higher up, but it is steep and does need concentration. Note: it's easier going up!
Once at the top, you are rewarded with views down Glen Rosa and Glen Sannox from The Saddle. To be honest, this is a perfect place to stop for a picnic and then head either back where you came or carry on down Glen Rosa.
Opting for the ascent to Goat Fell, involves some minor ridge running, a bit of scrambling and a couple of "don't look down" points. There is one specific bit near North Goat Fell that is a little exposed. But once you're by that the views on the other side before the climb to Goat Fell are magnificent.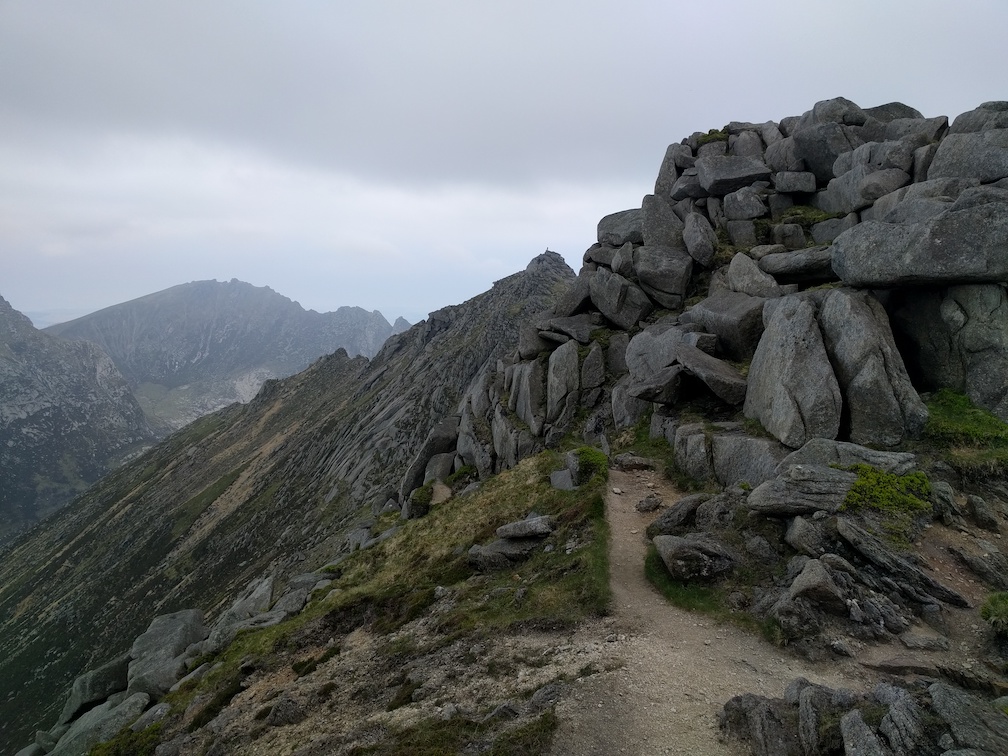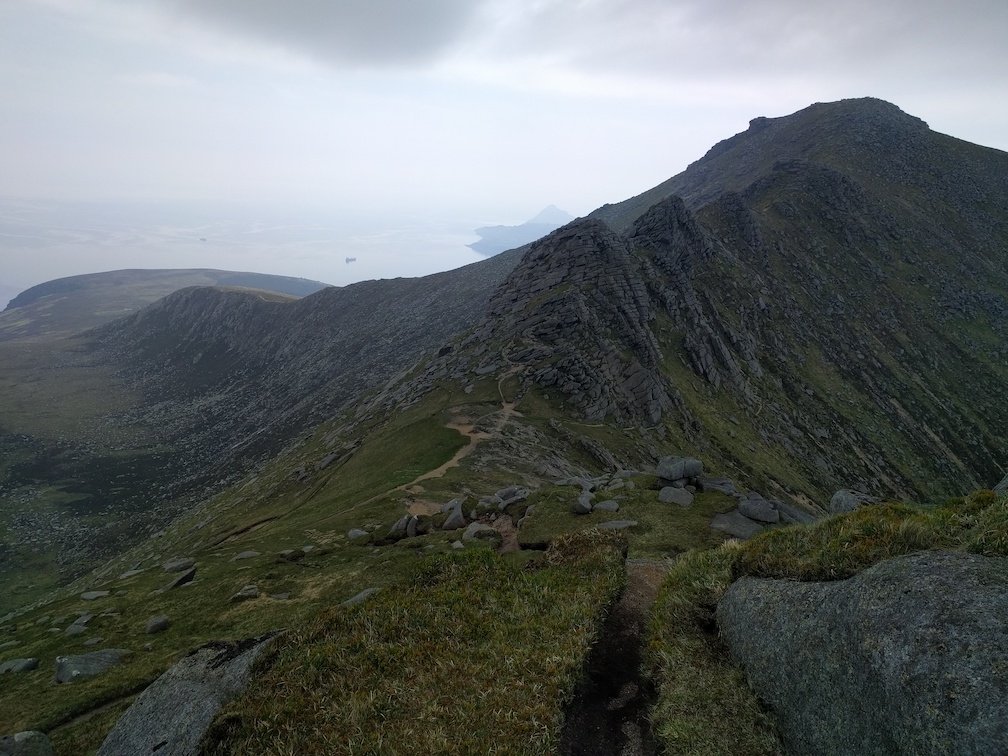 The best bit of the run for me was the descent from Goat Fell towards Brodick Castle. It is technical and requires you to focus on every step. As it was a warm sunny day, there were lots of people out climbing Goat Fell from the castle side. That added to the challenge! A bit like skiing through trees.Once down and off the rocky parts, you run through some trees and over a bridge. A track takes you left or straight on down towards Brodick. The track to the left takes you back to Corrie and Sannox via the Arran Costal Way. It's away from the coast and through a wide stoney corridor between some large trees, so not that inspiring. The alternative is to carry on to Brodick and get the bus back.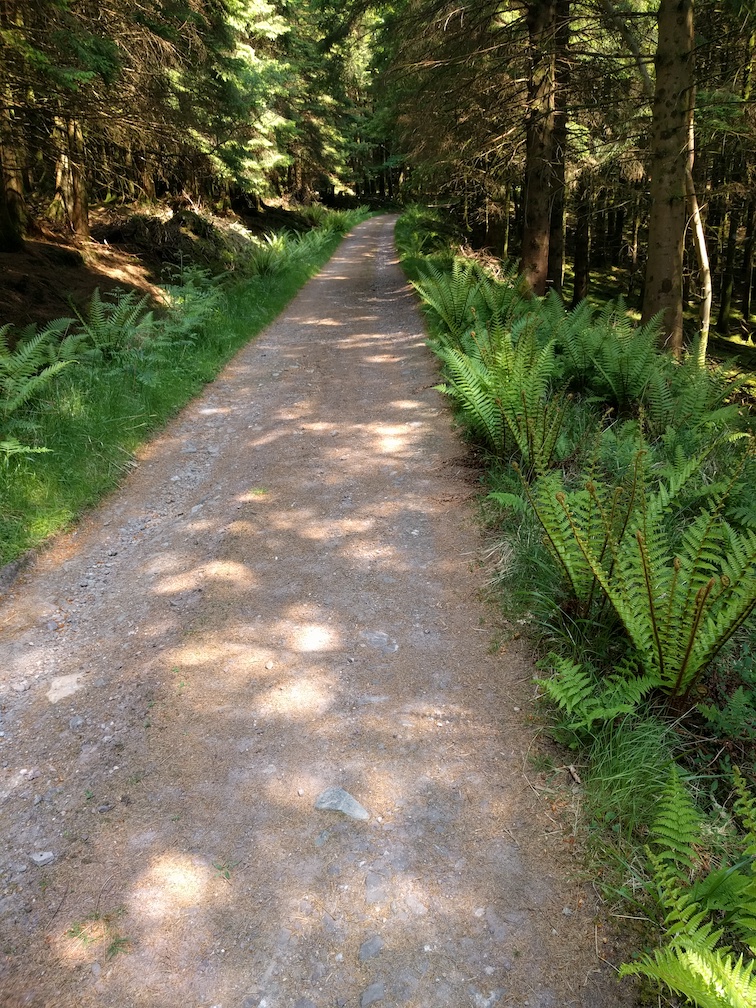 From the start of Glen Sannox up to Goat Fell and then back, it is about 14 miles. It's a very enjoyable and technical trail run that needs proper footwear and a backpack with extra fuel and clothing should you need it.