When we moved to Arran in February 2018, looking for a house and somewhere to live was hard work. So trying out the local vegan food on Arran was a nice pastime and way to relax :)
Since our first day, we've been taking snaps of vegan options available nearby to us in Sannox, and on the island in general. The list of what we've found is below. It's not a definitive list, and we'll add to it and change it as we go - not to mention posting photos on Instagram - but we hope this helps you with your quest to find vegan food on Arran!
Corrie and Sannox
The Corrie Hotel is at the heart of Corrie and was recently bought over (summer 2022). As of winter 2022, they have a vegan menu (THANK YOU!!!). Since the new owners took over we've had banana blossom fish and chips, jackfruit bolognese, mushroom pie, vegan schnitzel and rhubarb crumble.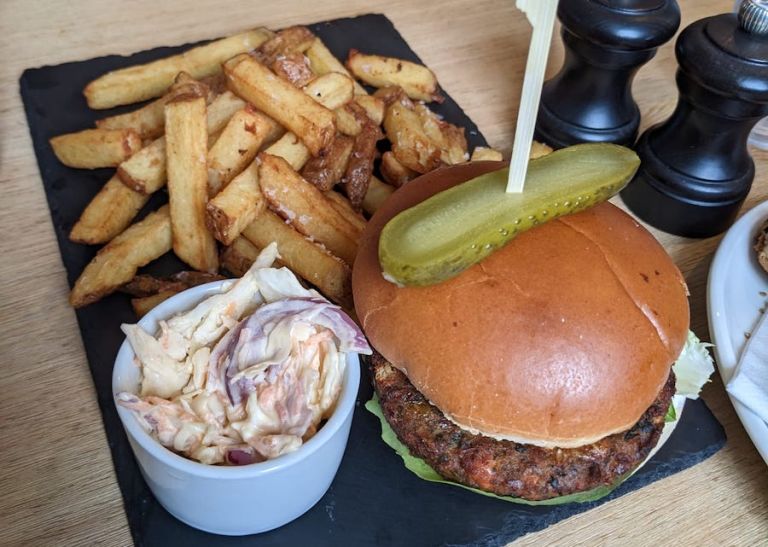 Spinach and falafel burger at The Corrie Hotel (2023)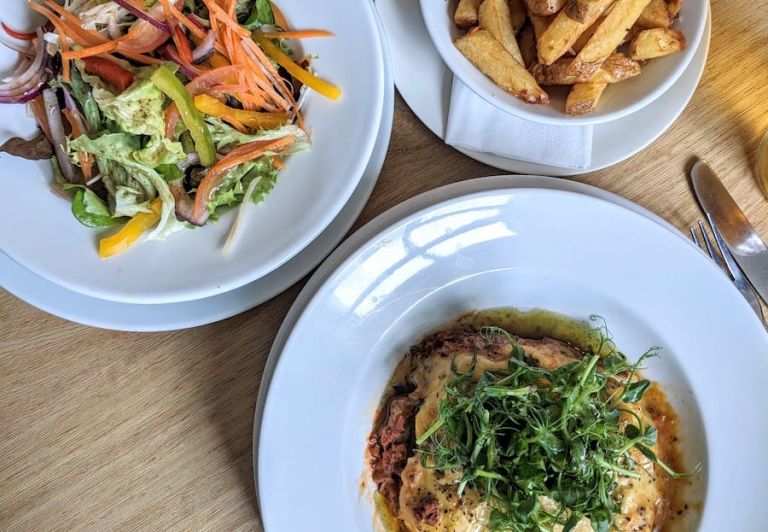 Vegan Lasagne at The Corrie Hotel (2023)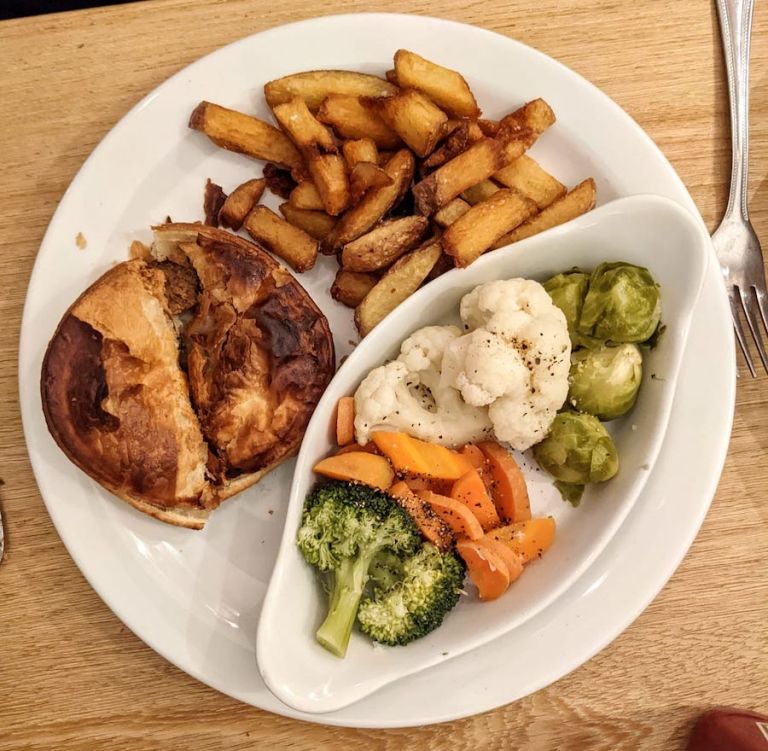 Mushroom pie at The Corrie Hotel (2022)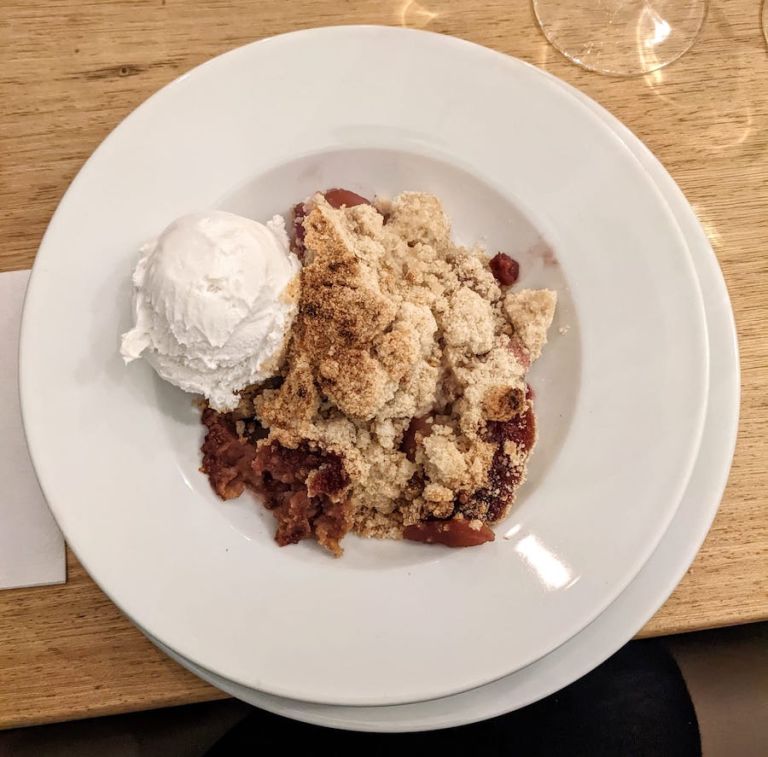 Rhubarb crumble at The Corrie Hotel (2022)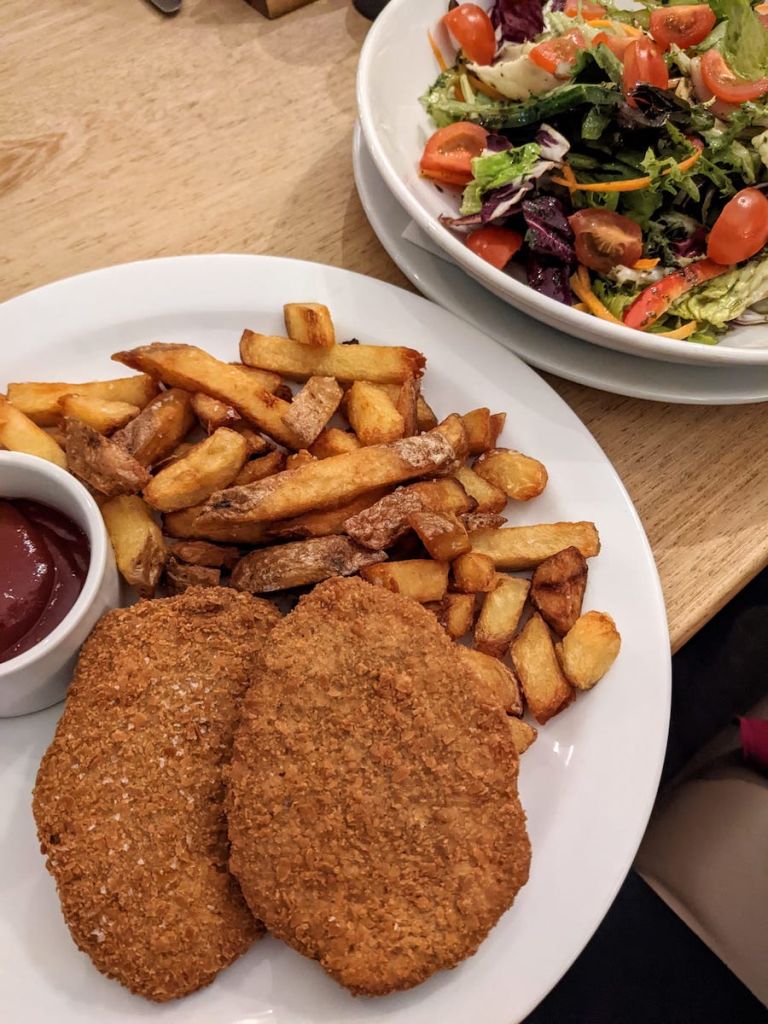 Schnitzel at The Corrie Hotel (2022)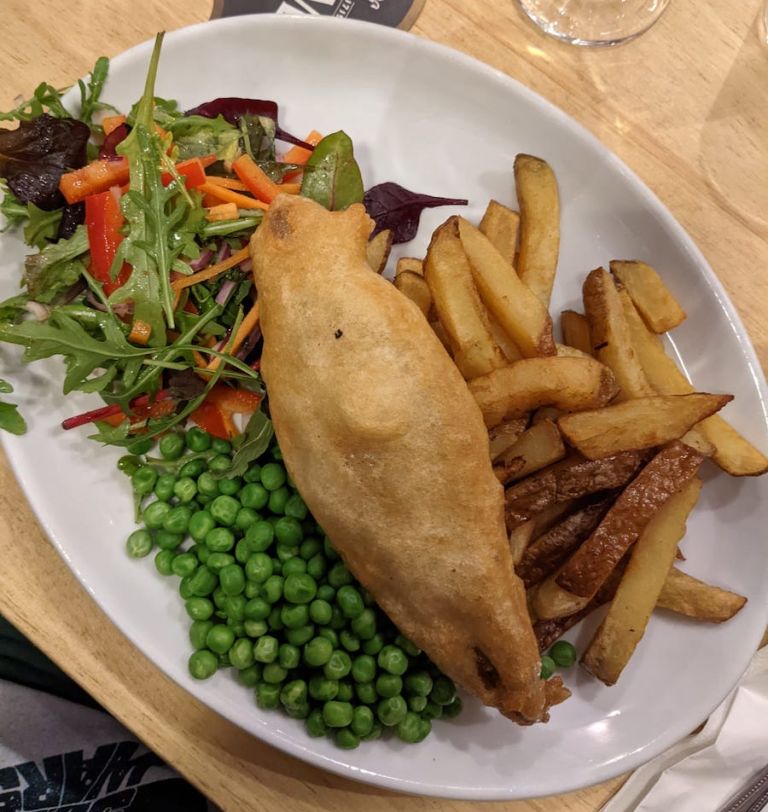 Banana blossom fish and chips at The Corrie Hotel (2022)
About 50 yards away from Corrie Hotel is Mara, a fish bar and deli. There is always a vegan option; banana blossom tacos Tuesday to Saturday and vegan kedgeree on Sundays. Sometimes the chef does either chips or hasselback potatoes that are to die for. It's also a good place to go if you fancy a nice coffee - they serve Dear Green from Glasgow - and they also sell local bread on premise from Blackwater Bakehouse.
New for 2021 is BBQ Saturdays at Mara. Check out below for the king oyster mushrooms. We've also had bao buns and Goan curry. They are not on the menu every day, but when they are GET ONE. Amazeballs. Below is a side of vegan potato salad too. Oh and chips. Why not? (more photos from Mara here)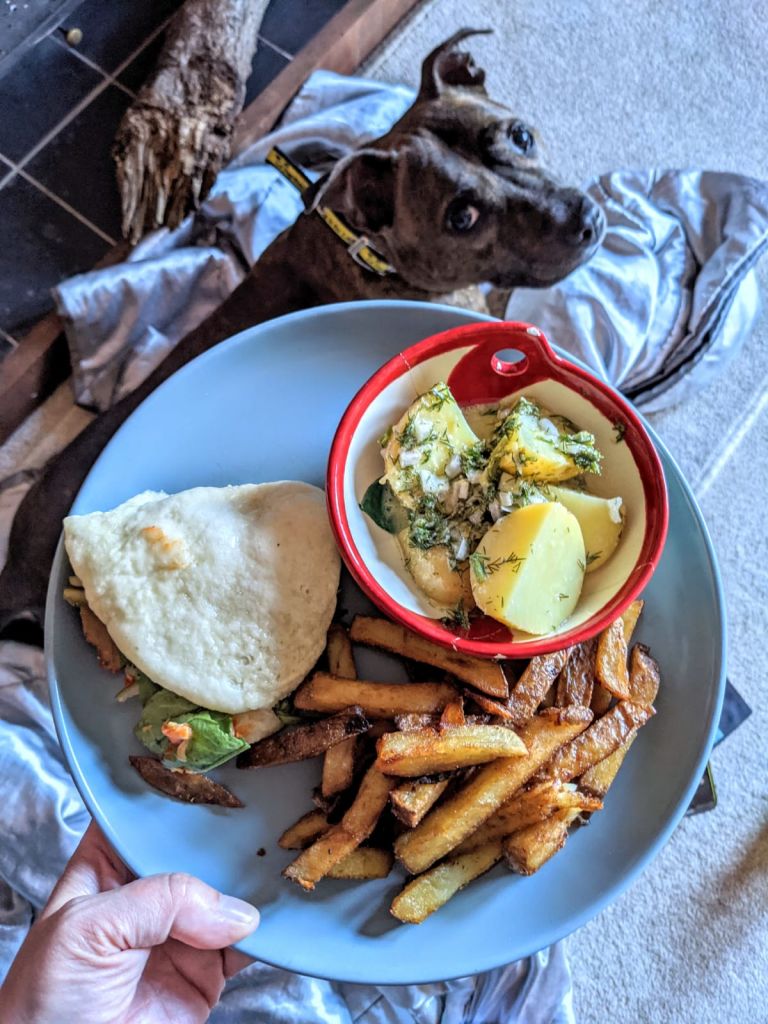 Bao bun with vegan potato salad at Mara (2021)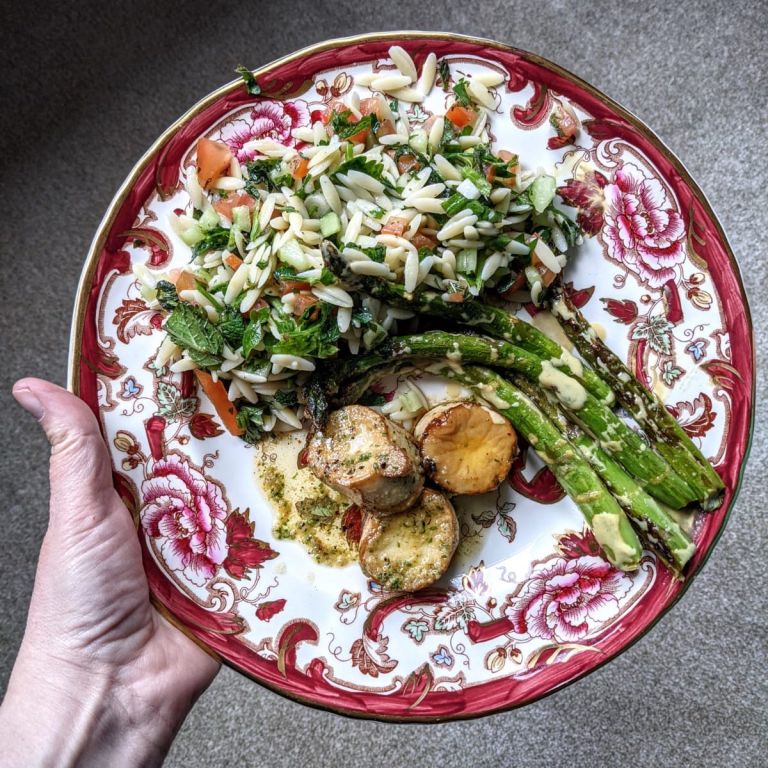 King oyster mushrooms, Dijon asparagus and orzo tabbouleh at Mara (2021)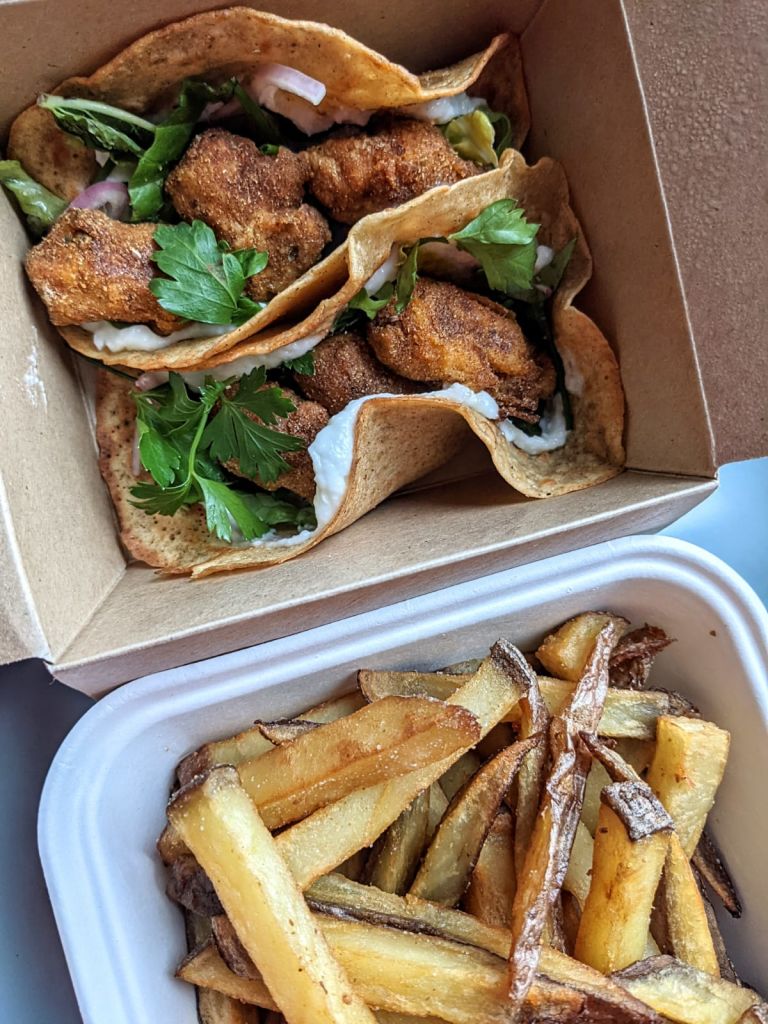 Banana blossom tacos with chips at Mara (2021)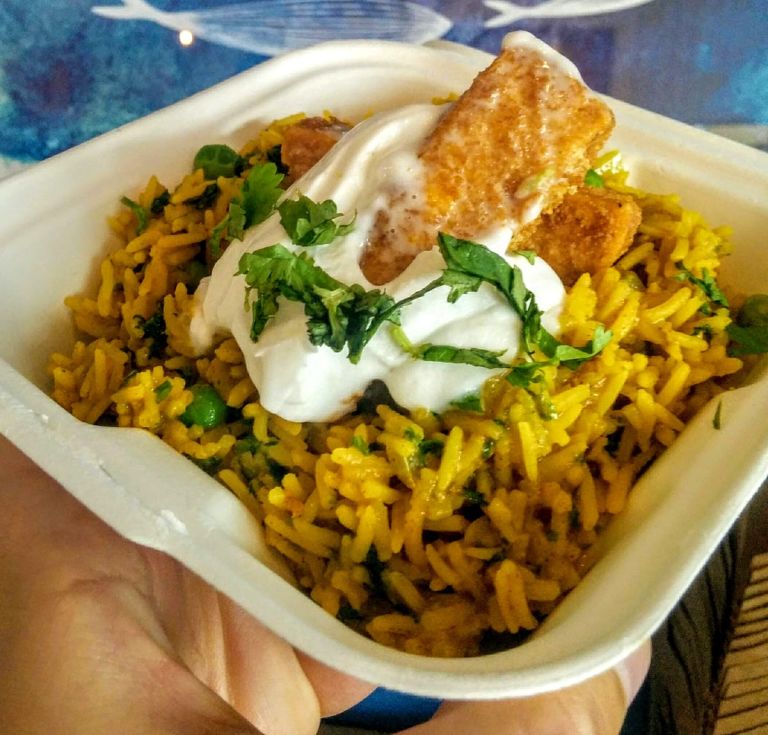 Vegan kedgeree at Mara (2020)
Arran has a lot of different pop up restaurants and food trucks. One pop up that you see is Arran Supper Club. They do amazing vegan tacos. Keep an eye on the Facebook page for announcements.
There is also a tea room at Corrie Golf Club called Fran's Tea Room. It sells traditional food, but the handmade chips are pretty tasty. A chip butty and soup is £6.50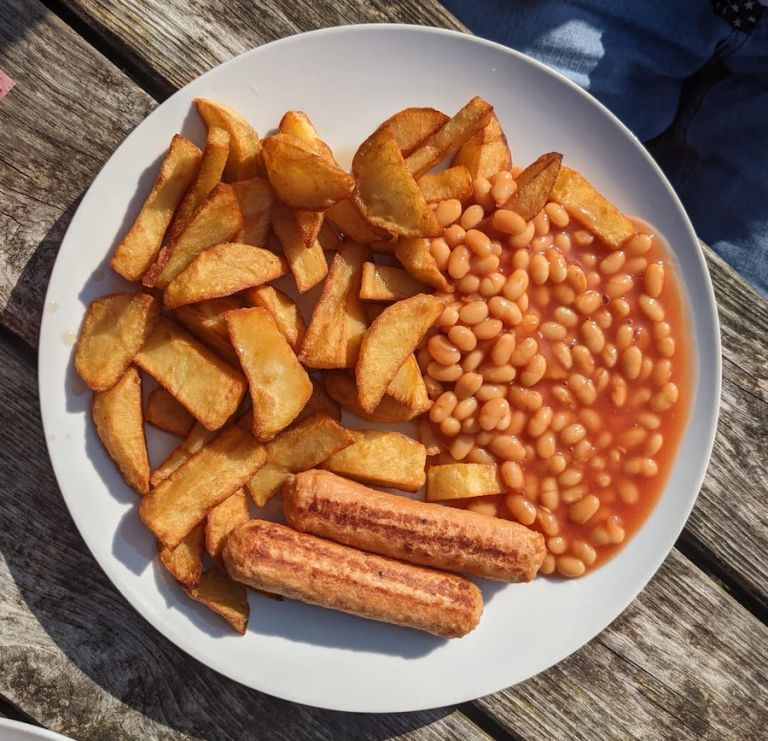 Sausage, beans and chips at Fran's (2022)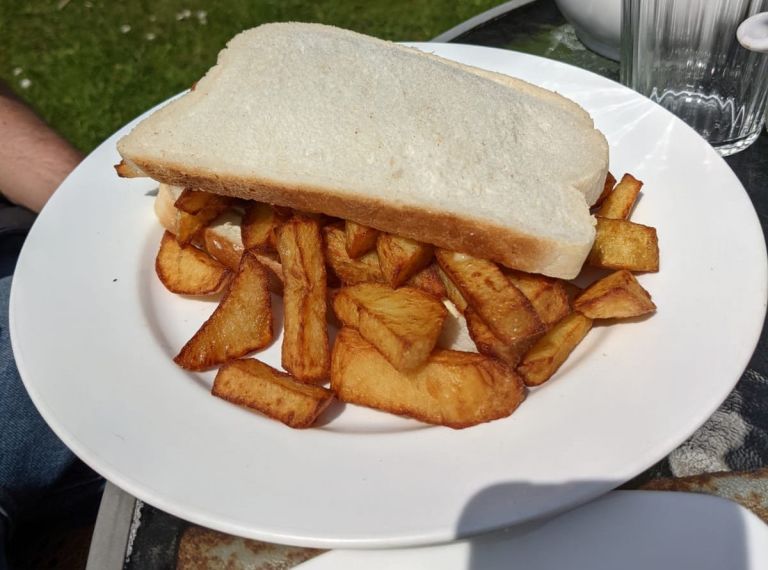 Chip butty at Fran's Rea Room (2021)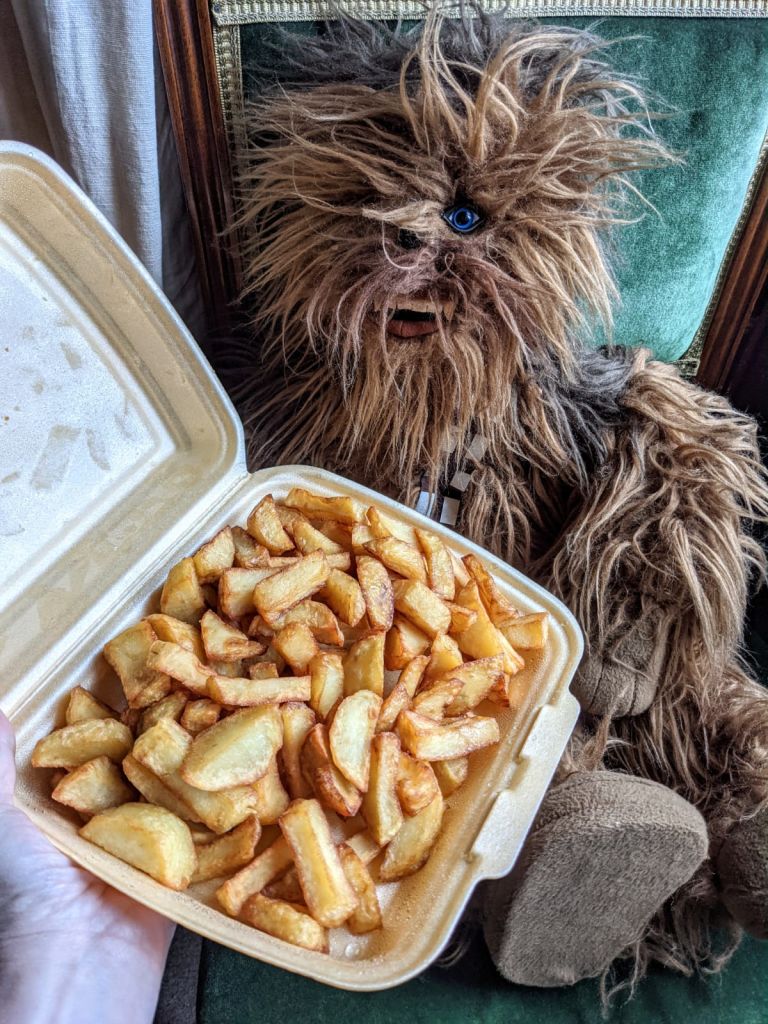 Homemade chips at Fran's Tea Room - Chewie likes! (2021)
Lochranza
Heading north from Sannox to Lochranza is The Sandwich Station near the ferry terminal. There are always two vegan options on the menu (in 2019 there were five!) plus they sell damn good soup. The sandwiches here are amazing and served on local bread.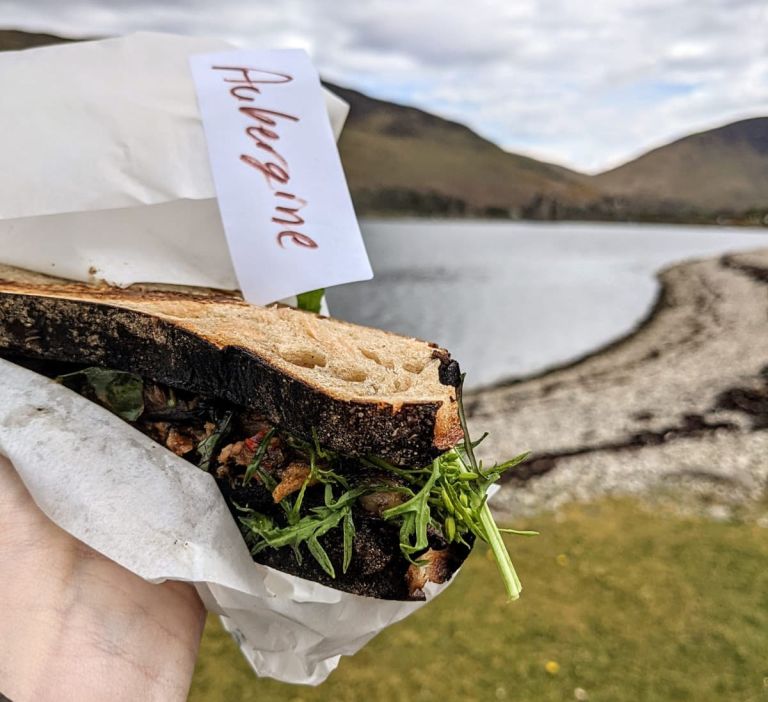 Aubergine and crispy onions at The Sandwich Station (2021)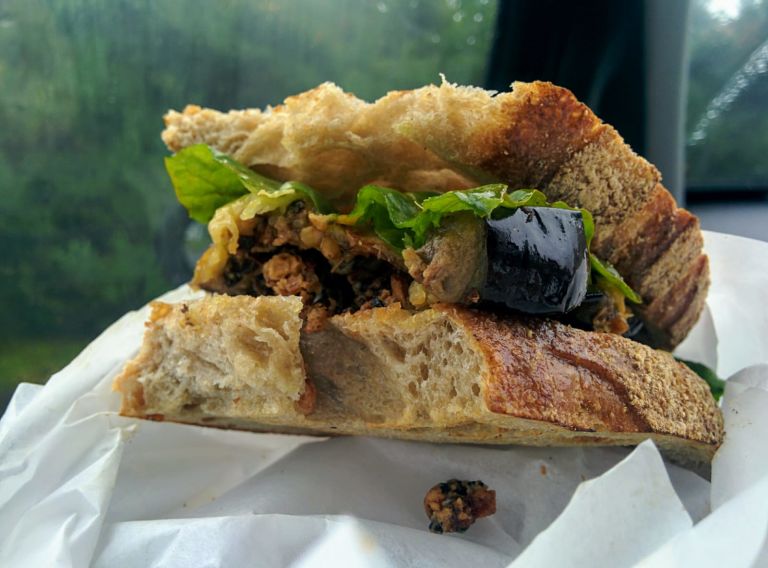 Aubergine and spiced onions on focaccia at The Sandwich Station (2019)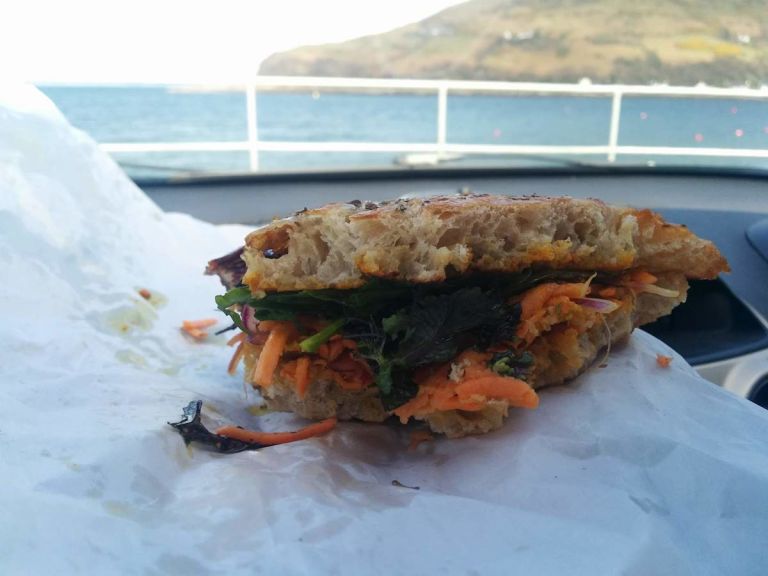 Sweet potato and lime pickle sandwich at The Sandiwch Station (2019)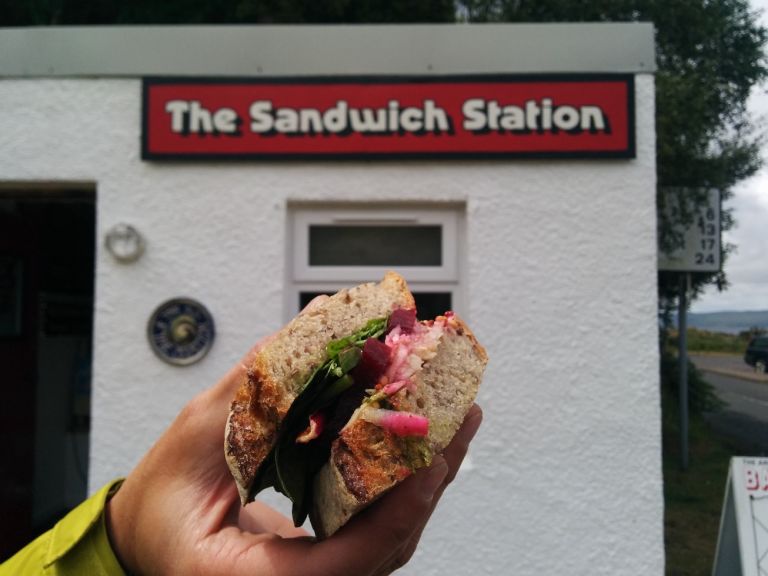 Beetroot sandwich at The Sandwich Station (2018)
Whilst you're in Lochranza, you can also visit the Whisky Distillery for lunch in the aptly named Casks Cafe. Normally they have a soup that is vegan (you need to ask) and you can get a salad sandwich (with chips, of course!). If that doesn't float your boat, then just head downstairs and get some whisky!
A good place to go in Lochranza is the Stag's Pavilion, which now has a vegan and vegetarian menu (2019). You need to book Stag's six weeks in advance. Stag's is great. It's BYO and it's a small and cozy affair. We went in November 2021 and got a butternut squash and lentil wellington, a sweet potato, cashew and apricot chutney tart and a clementine and chocolate torte with ice cream for desert. Photos below.
Butternut squash wellington at Stag's Pavillion (2021)
Clementine and chocolate torte at Stag's Pavillion (2021)
Sweet potato tart at Stag's Pavillion (2021)
In Lochranza, you also might see a light blue food truck driving about. It is The The French Fox and they do pop ups throughout the island. Best place to check where they are next is their Facebook page. The food is incredible.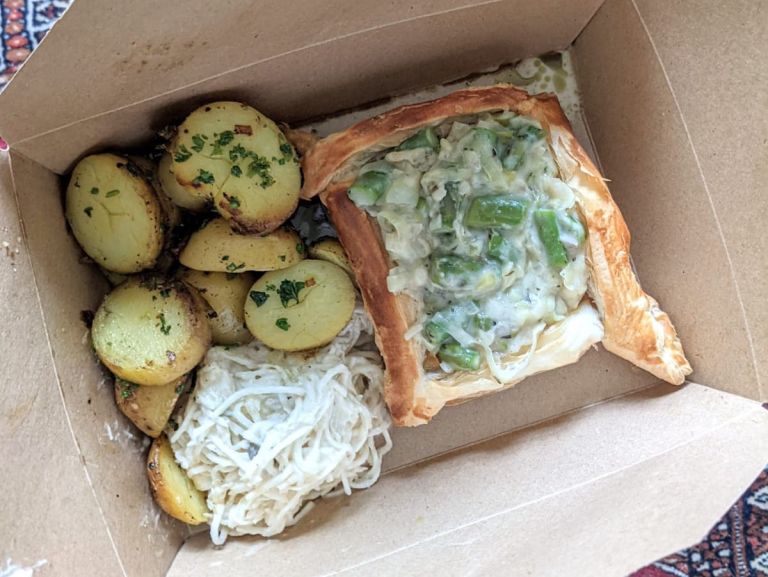 Aspargus tart at The French Fox (2021)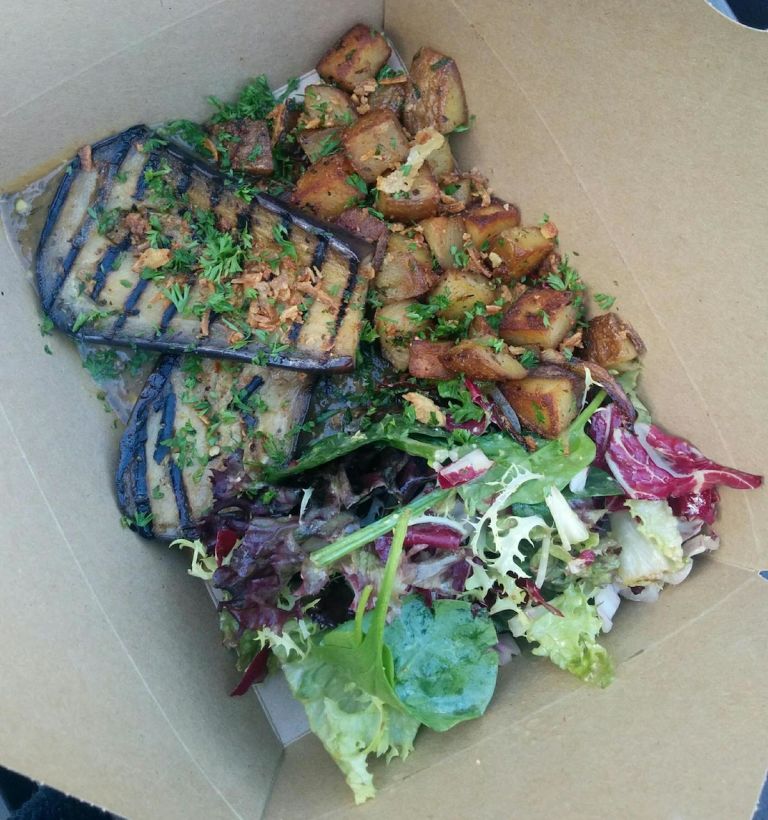 Aubergine au poivre at The French Fox (2020)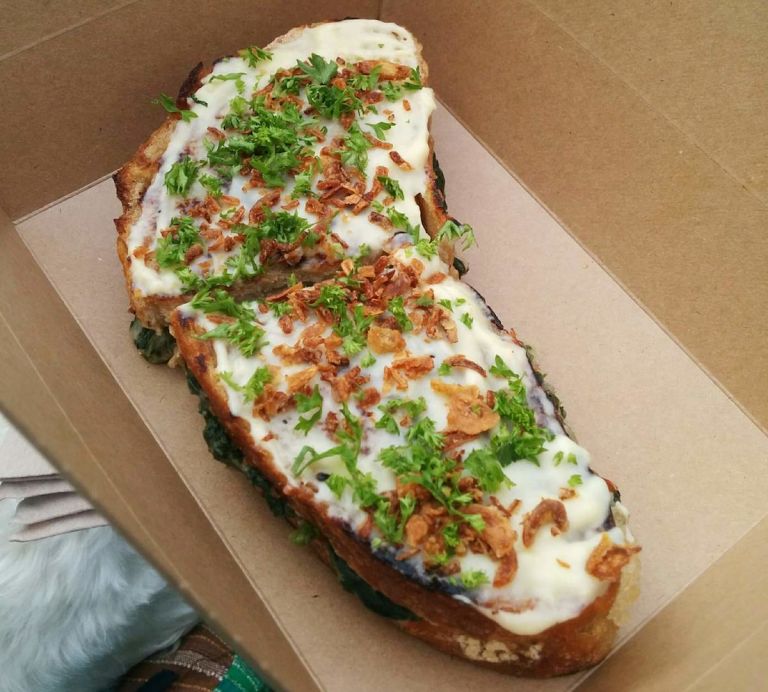 Spinach croque at the French Fox (2020)
West Coast
As you head further round the island to the west coast, you get to Pirnmill. There is the Lighthouse Restaurant here (not tried it and but as of 2019 they don't have vegan options, but one guest phoned ahead and the chef prepared a meal). If you continue on for a wee while (assuming you are driving) you'll see signs for Cafe Thyme (at the Old Byre). OMG... they do these Turkish pizza type things (called Pides) and have vegan options. They taste fab.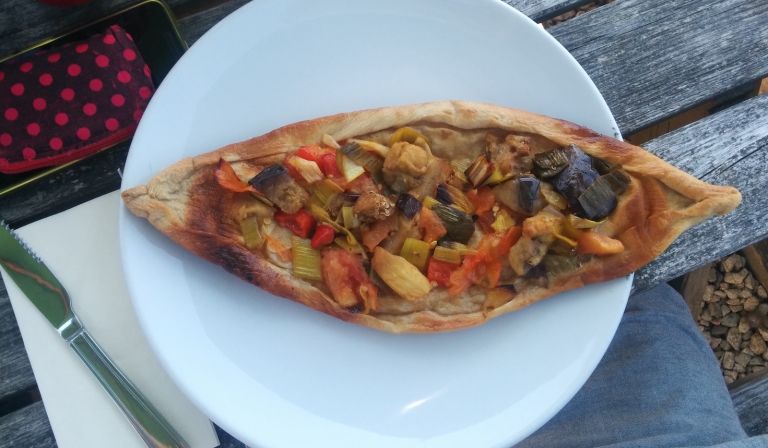 Vegan Turkish pide at Cafe Thyme (2018)
Continuing on you come to Machrie and Blackwaterfoot. We're not too sure about eating options, but you can get soya milk in Kinloch Hotel in Blackwaterfoot, so it's a good place to stop for a coffee and sit in the lounge staring a the sea. Blackwater Bakehouse is also in Blackwaterfoot (check the opening times - and that the bread you're buying is vegan, as some of it is not).
Brodick
Back over on the east side of Arran, and heading further south from Sannox and Corrie you get to Brodick. Next to Arran Aromatics (now called Arran Sense of Scotland), there is a cafe called Janie's Cafe, which do a vegan cake - YESSS!!! Go on - you could walk from our place (5 miles), walk off your vegan breakfast and then top yourself up with a cake!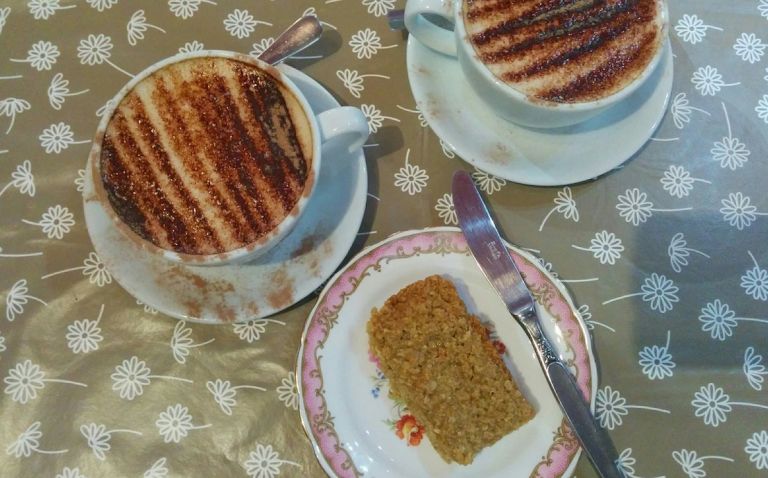 Janie's Cafe vegan flapjack (2018)
Just before you get to Janie's Cafe and Arran Aromatics and near the Arran Brewery, there is an old building called the Wine Port, which is open during the day. In July 2019, we had the vegan chilli and it was very tasty and in February 2020, we had beetroot bhajis, again very tasty. Photos below.
Beetroot bhaji at Wine Port (2021)
Menu at the Wineport (2021)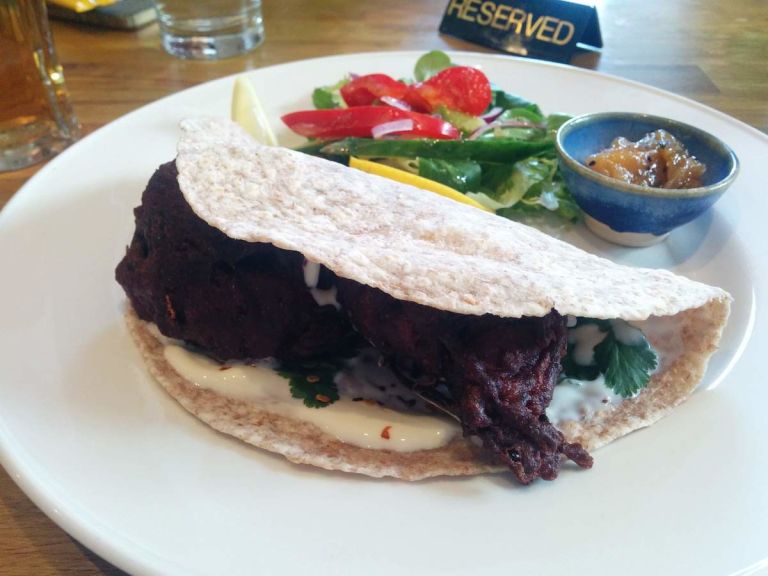 Beetroot bhaji at the Wineport (2020)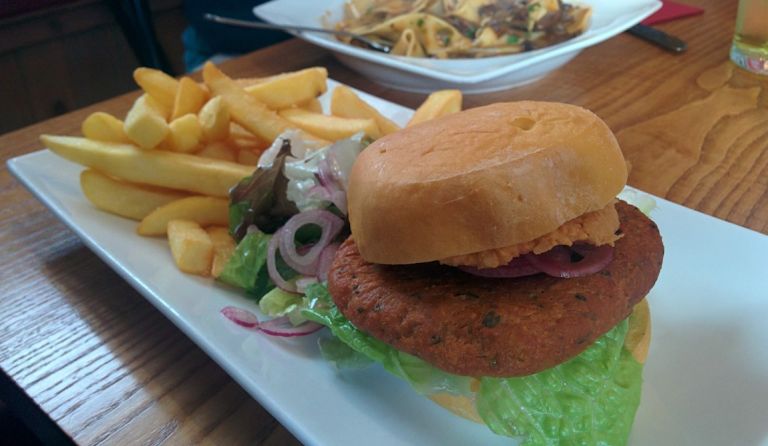 Vegan chilli at the Wine Port (2019)
Carrying on further into Brodick you'll get to Brodick Golf Course. This is a great place to have  a local pint, if you can get in. The kitchen has changed hands a few times in the last few years, so the menu changes. It's also a members club, so technically you need to be a social member, member or a member of one of the other golf clubs. They do takeaway too sometimes and we've yet to have the vegan loaded fries.
Pulled mushroom burger at Brodick Golf Club (2022)
Falafel wrap at Brodick Golf Course (2021)
In October 2018, a new place opened up in Brodick called The Parlour, which is owned by Arran Dairies. The Parlour has a number of vegan options including vegan pizza. It has just changed hands. We went in December 2021.
THEY SELL VEGAN STRAWBERRY ICE CREAM TOO. And now also mango and chocolate (2020)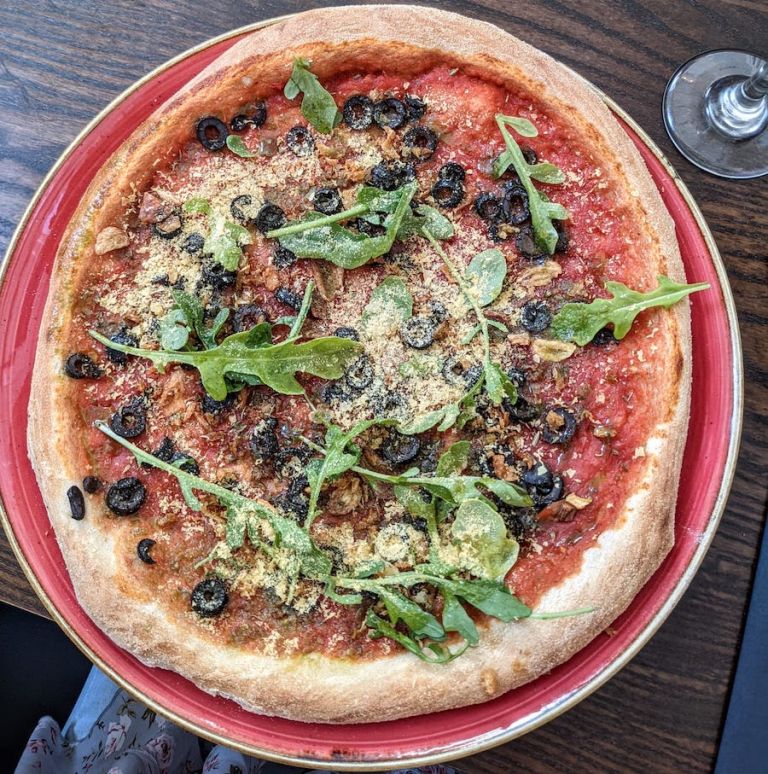 Vegan pizza from the Parlour (2022)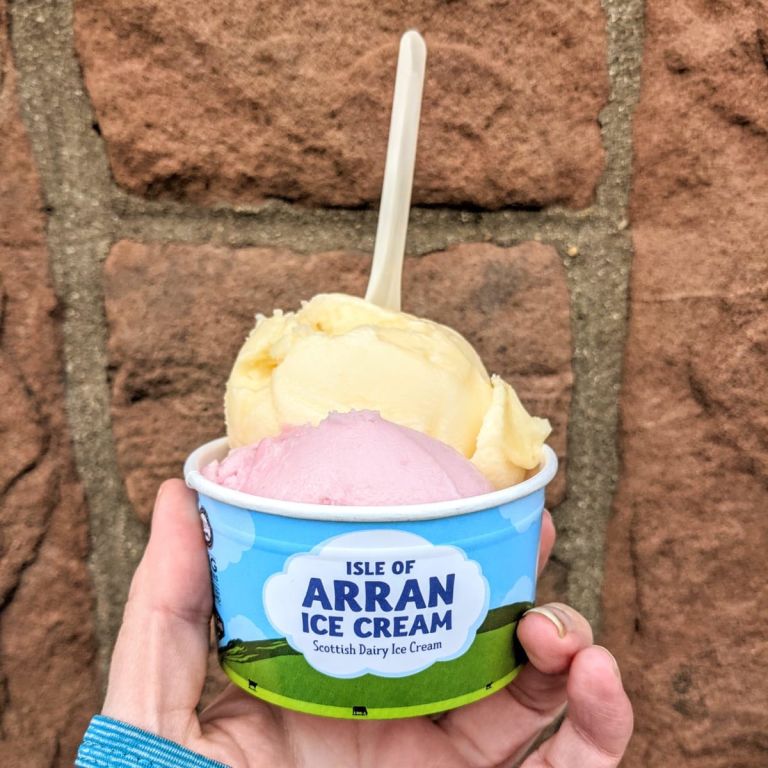 Vegan ice cream at The Parlour (2021)
Another option in Brodick - especially if you are looking for a local pint - is The Ormidale Hotel. The Ormidale menu changes, but we've had a vegan curry there before - and more importantly (!), they do curly fries (you can request them to be fried in vegetable oil).
On the main stretch in Brodick, there is Crofters (NOW CLOSED), which has a number of vegan options over the years. They specifically state on a sign in the window that they have "vegan options", which kind of gives you confidence and a warm fuzzy feeling inside :) We've had a veggie burger and mushroom stroganoff in 2018 and in August 2019 they had vegan nachos, a vegan salad and lentil soup on the menu (nachos below).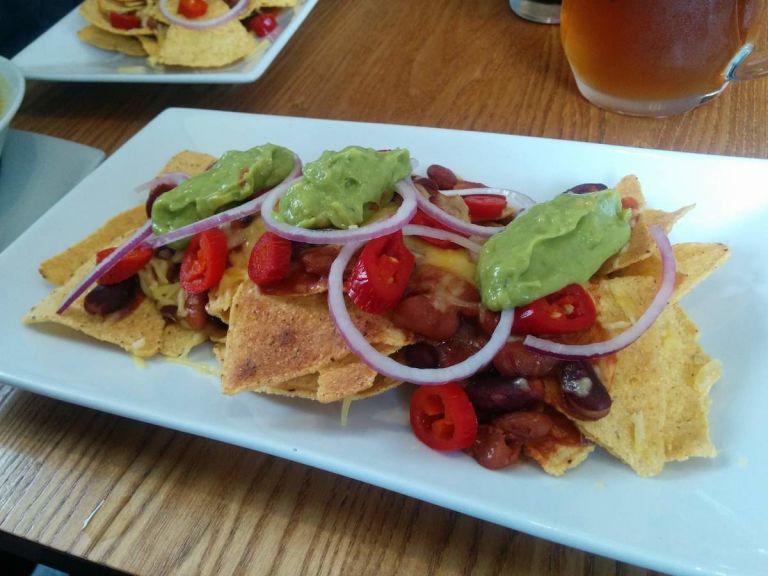 Vegan nachos at Crofters (2019)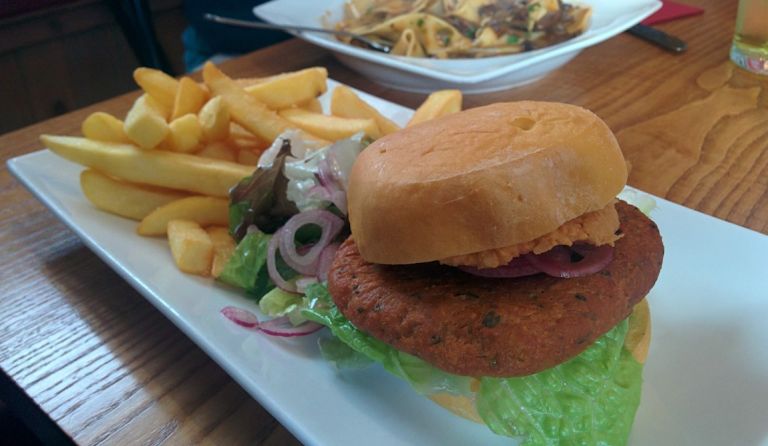 Fidlers vegan burger and mushroom straganoff (2018)
Near Crofters is Wooleys the bakers, which sells lovely bread - just check it is vegan though - and vegan sausage rolls (two different types - see below, they are very tasty).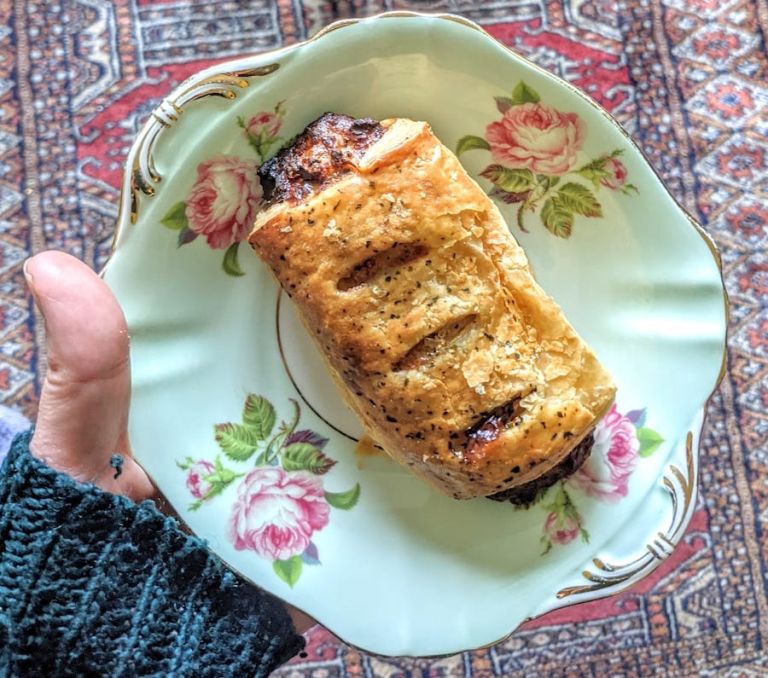 Wooley's vegan sausage roll (2021)
Carrying on a bit from Wooley's, you get to Little Rock Cafe. This place is the bizzle. It's also very busy... Handily enough though, if it's too busy you can jump on to the crazy golf right in front of the cafe. Go on... let yourself go... Go crazy. Little Rock Cafe has a few options (baked potatoes and that kind of thing). They also do a good sandwich and veggie burger that can be made vegan. Plus Dear Green coffee. And as of 2019, some vegan energy balls provided by Rebel Coco (beetroot, peanut butter and cacao flavours).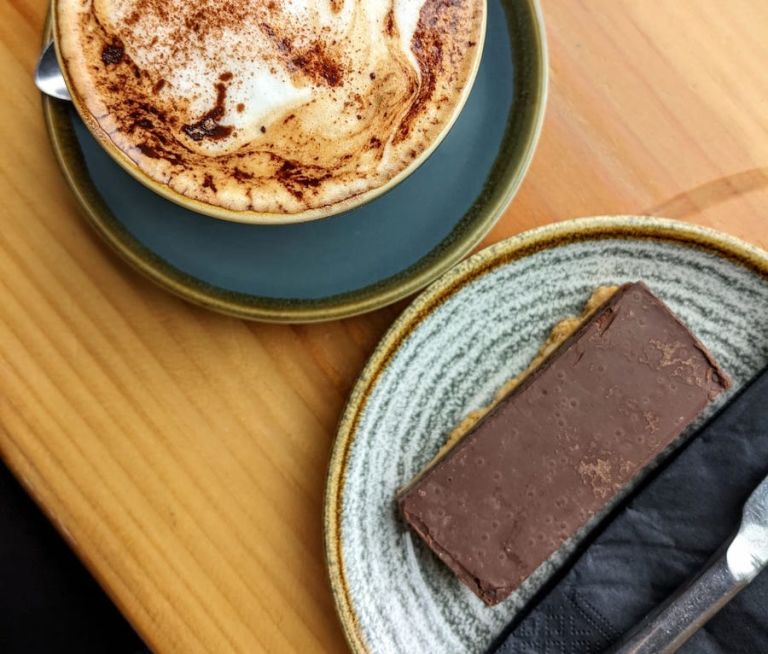 Millionaire's shortbread at Little Rock Cafe (2022)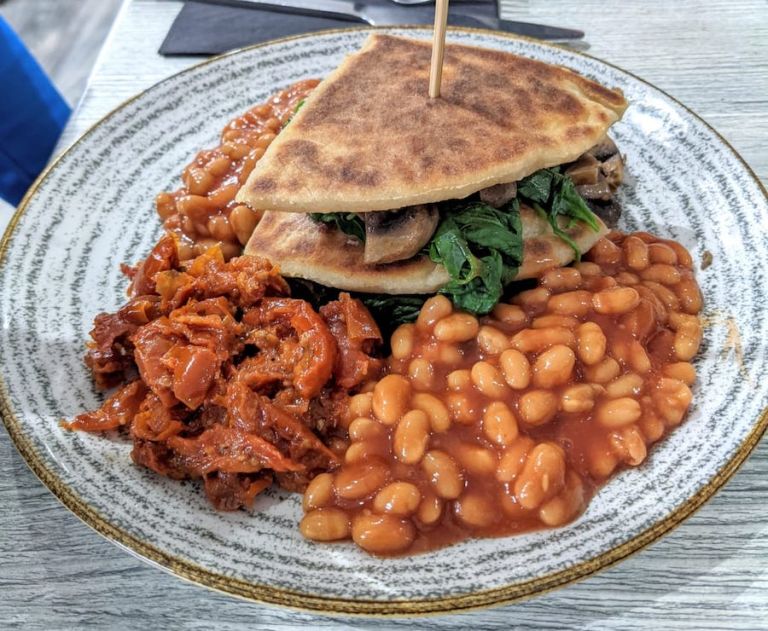 Vegan breakfast stack at Little Rock Cafe (2021)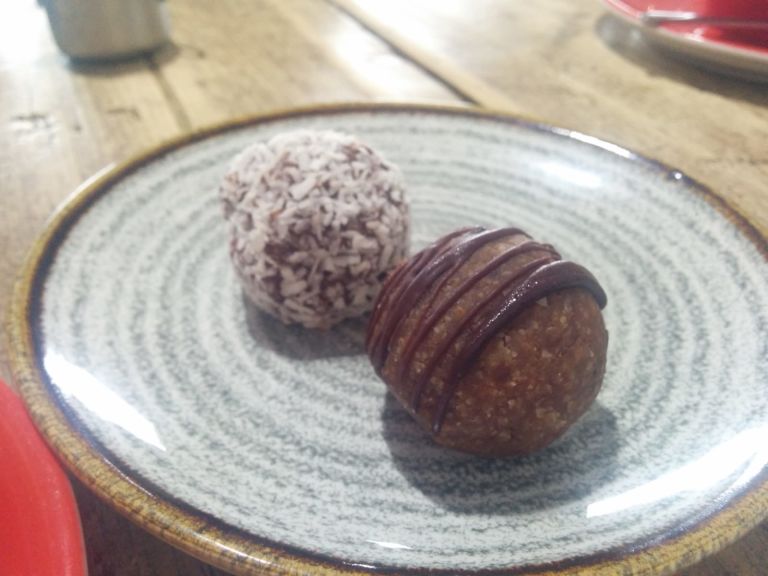 Peanut butter and beetroot protein balls at Little Rock Cafe (2019)
Beetroot and houmous sandwich at Little Rock Cafe (2018)
Brodick is also home for the Auchrannie, Arran's 4* resort, which has a number of restaurants. Below is some recent food we had in 2022.
One restaurant at The Auchrannie is Cruize. We went with family in March 2019, and were pleasantly surprised with options. Below is a vegan pizza and a vegan platter. You can also go for breakfast and get vegan sausages, hash browns, beans etc.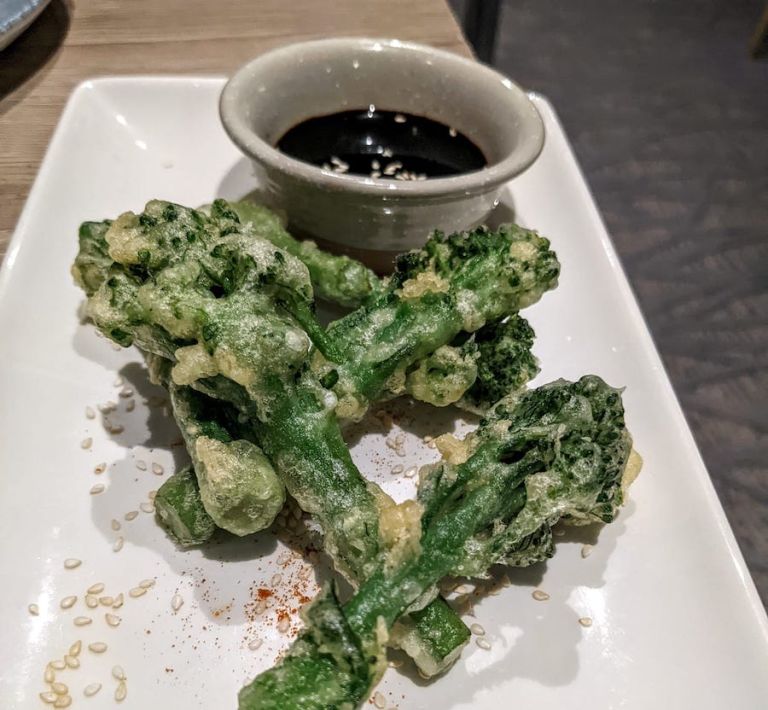 Broccoli tempura at Brambles (2022)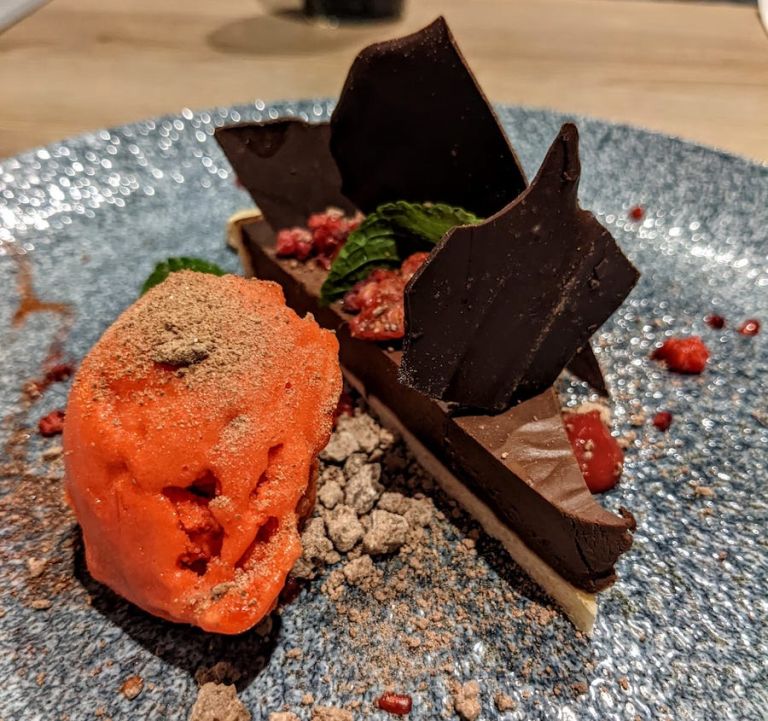 Dark chocolate and ginger tart at Brambles (2022)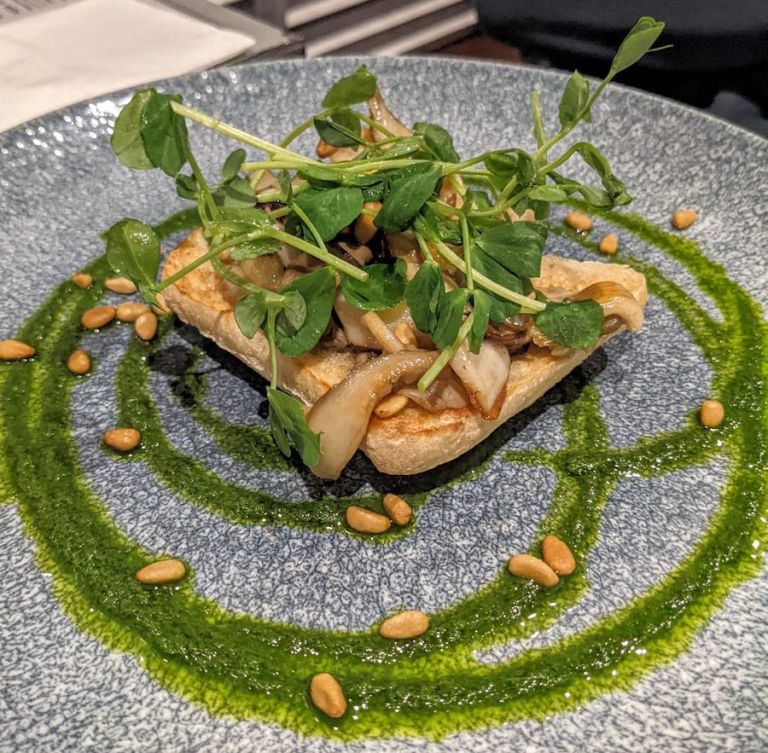 Wild mushroom toast and pinenuts at Brambles (2022)
Brodick also has a the chippy - amazing chips! - at the ferry terminal called Hooked and Crooked, which is quite often queued out the door, but who could refuse this below?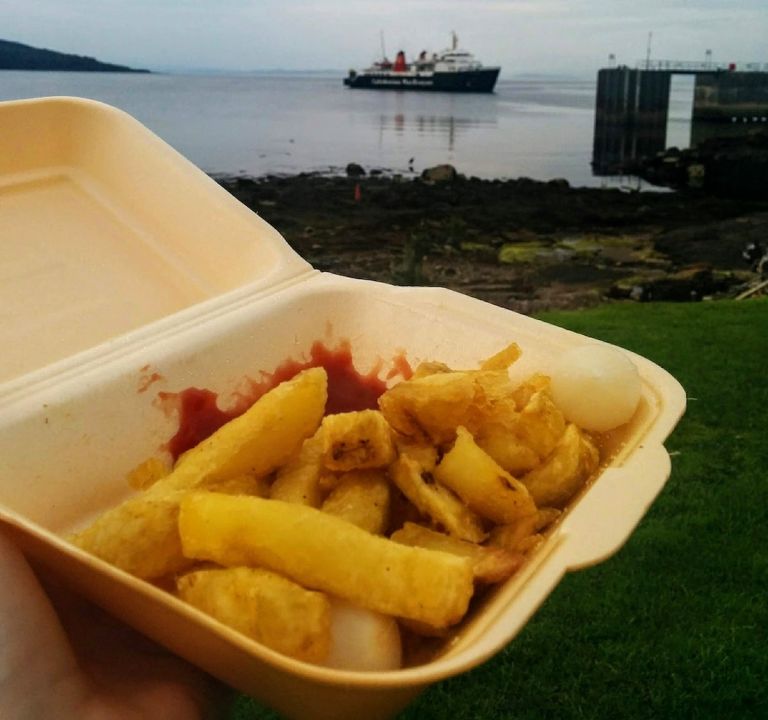 Chips!!!
Before the chippy, there is the Douglas Hotel. The menu changes, but as of October 2020, vegans were well catered for with three main dishes (jackfruit burger, nut roast and veggie curry). They have a bistro and a restaurant and the latter is a bit pricey, but it's a nice place to go.
Arran had it's first food festival in September 2022 and we went to Brodick Bar for the first time as they were doing a vegan menu for the festival. See below. It was amazing and one of the best we've had on the island. Keep an eye on their website, as the menu changes.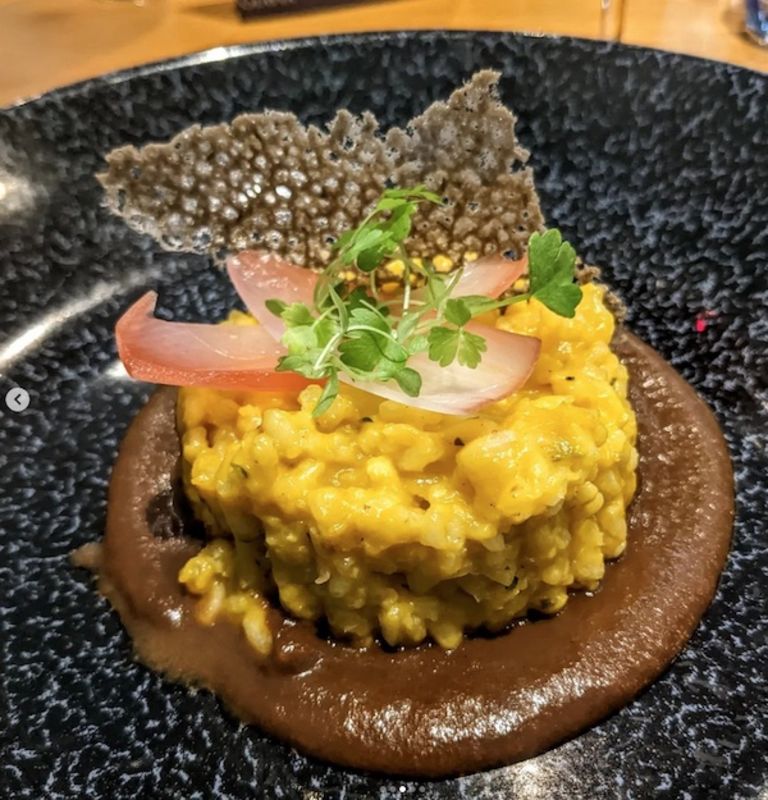 Carrot and sesame risotto and garlic puree at Brodick Bar (2022)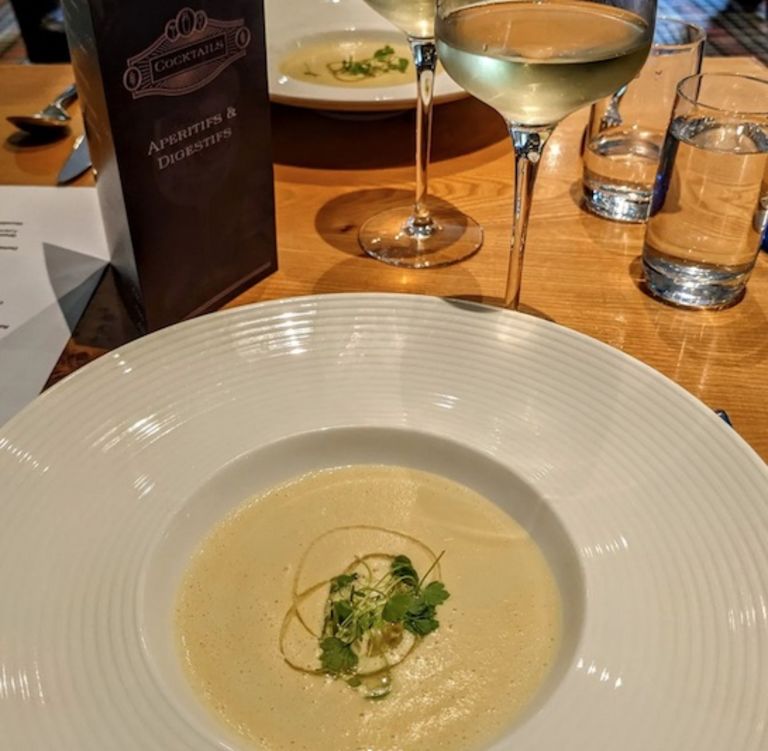 Onion veloute with truffle oil at Brodick Bar (2022)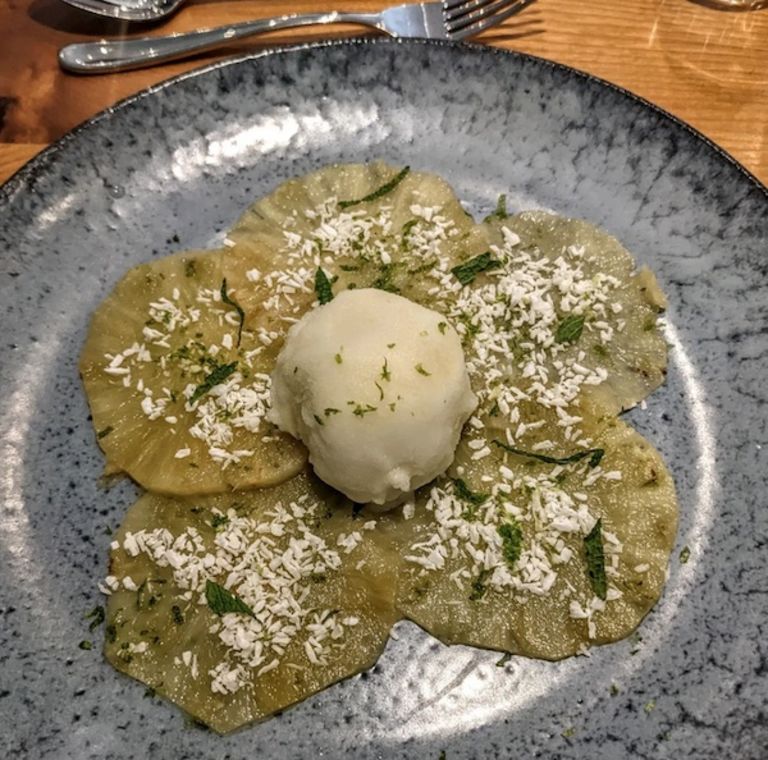 Rum pineapple and mint and lemon sorbet at Brodick Bar (2022)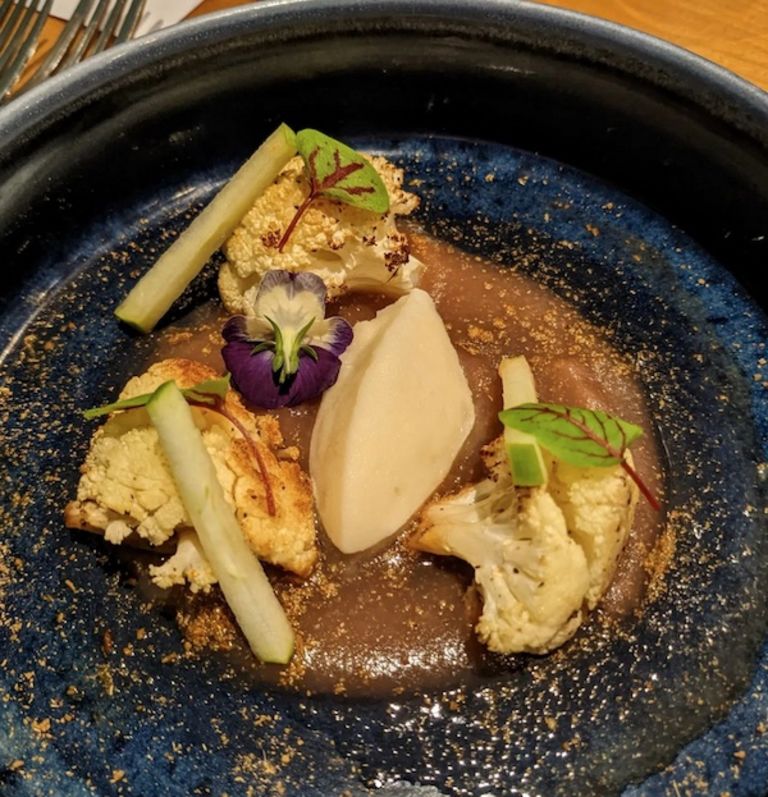 Roasted cauliflower with trio of apple at Brodick Bar (2022)
Lamlash
Moving on from the Capital City of the Kingdom of Arran, the next town and second to the throne is Lamlash with views to Holy Isle. There are a couple of place's we've eaten here.
The first place in Lamlash is The Drift Inn, which has a great team and some good food. Due to Covid Schmovid restrictions, the menu has changed a wee bit. When locked down eased we had curried chickpea burger and chips with salsa (2020 - pictured below). Dare we saw it?! The best chips on the island?!
We also went in 2021 and had vegan croquettes, onion bhaji burger, butternut squash risotto, a spanakopita (we had to google that) and sticky toffee pudding. All vegan. The Drift Inn has changed hands a few times, but here are a few recent photos and photos of food we have had in the past (some of the kitchen staff are the same).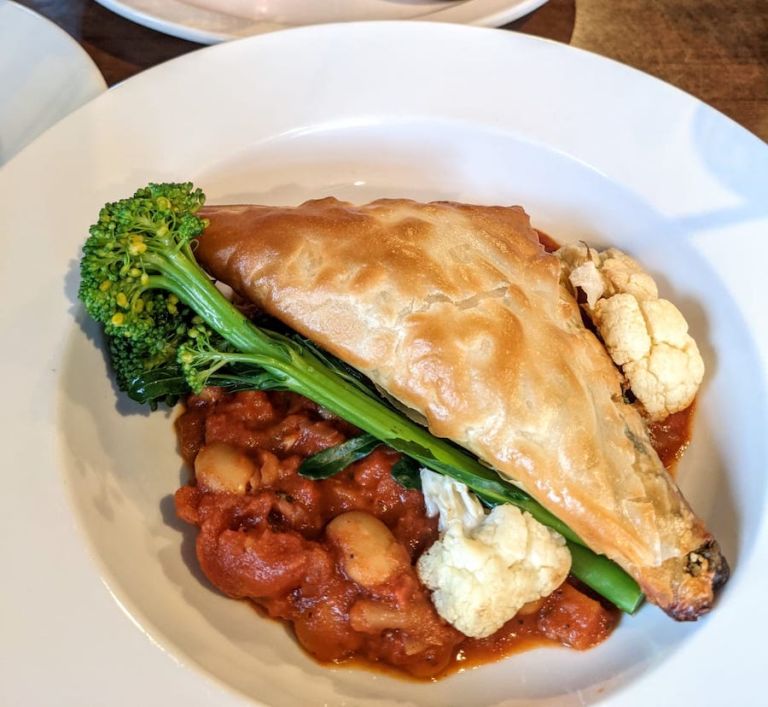 A spanakopita at Drift Inn (2021)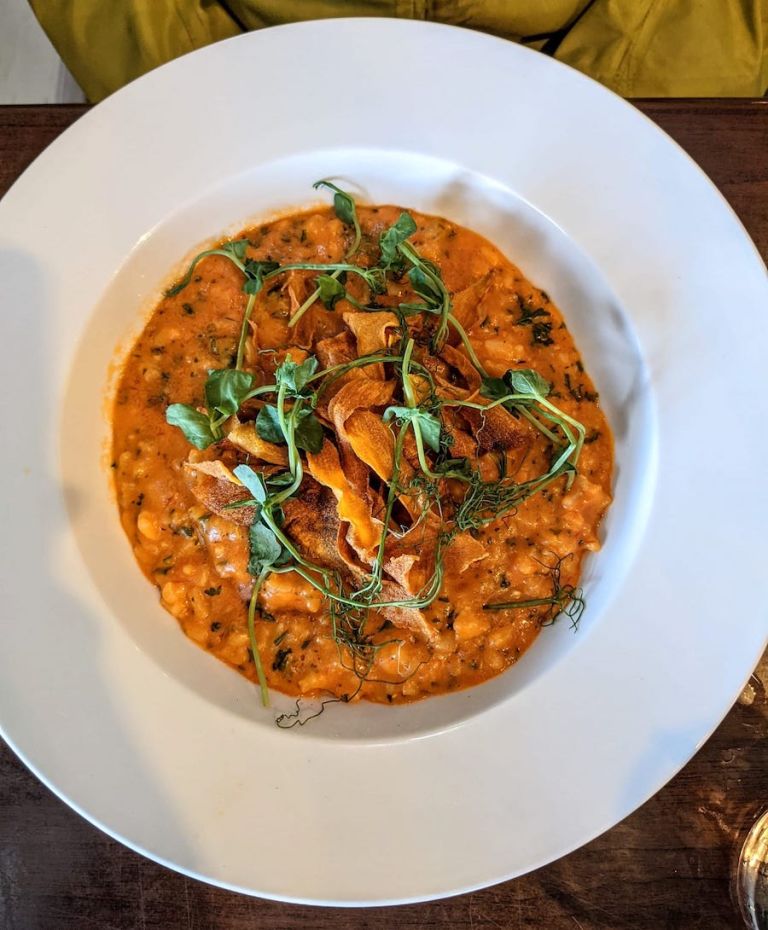 Butternut squash risotto at Drift Inn (2021)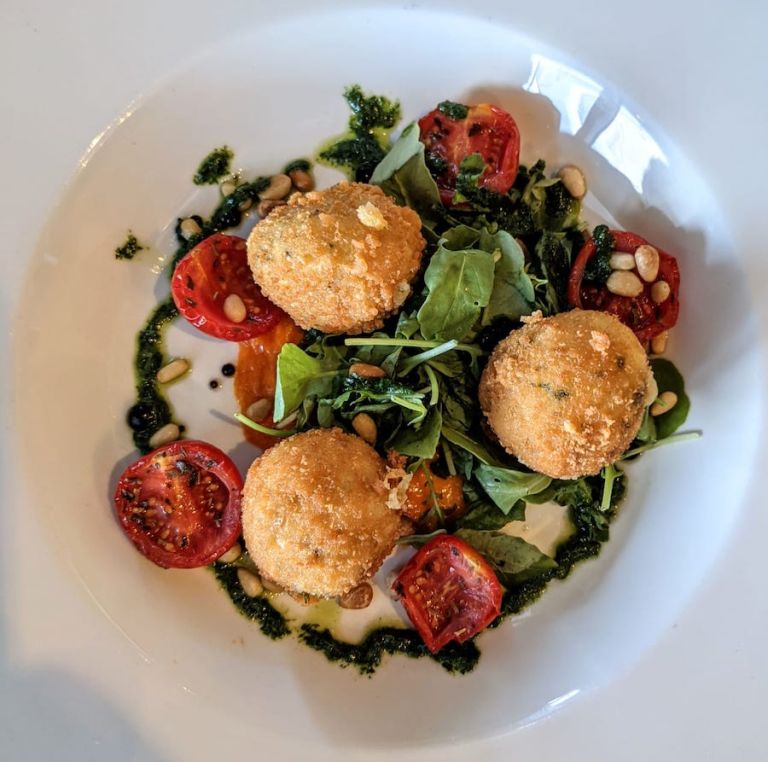 Vegan croquettes at Drift Inn (2021)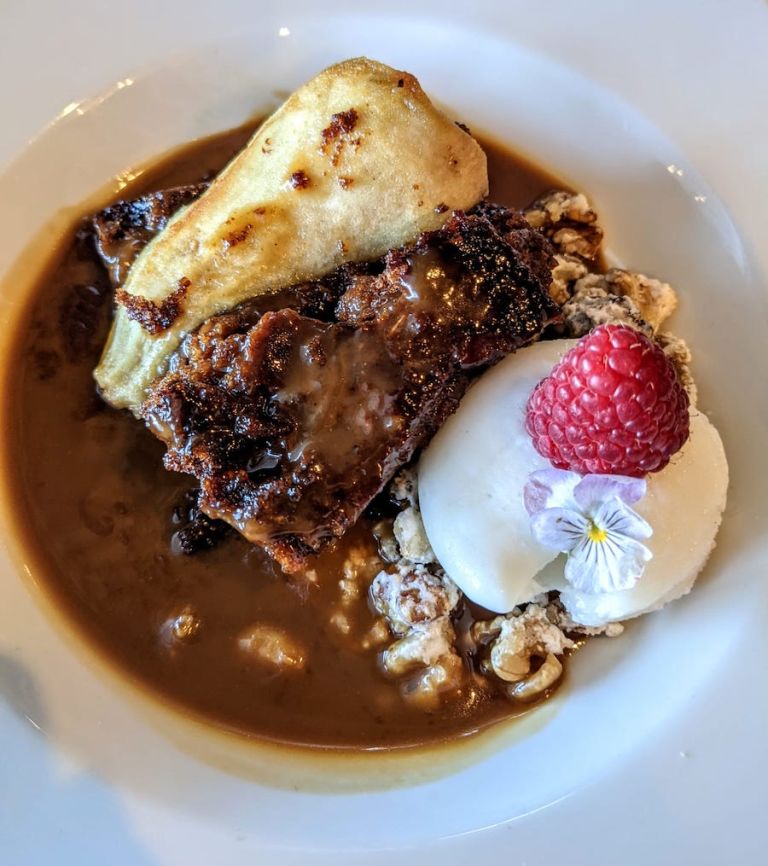 Sticky toffee pudding at Drift Inn (2021)
The other place in Lamlash is the Pierhead Tavern - or PHT. The menu changes, but we have had vegan food in there that was very tasty. It's probably best phoning ahead to see what is on the menu. Below is a stew from 2018 and most recently (October 2019) a vegan bean burger (with vegan cheese) and a chocolate and orange torte.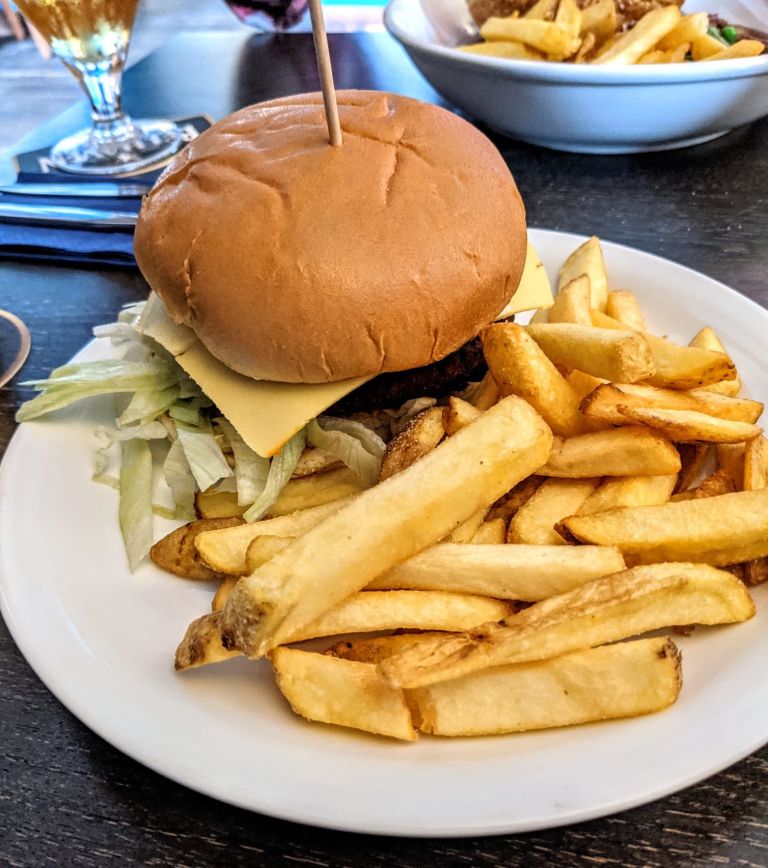 Moving Mountains vegan burger PHT (2021)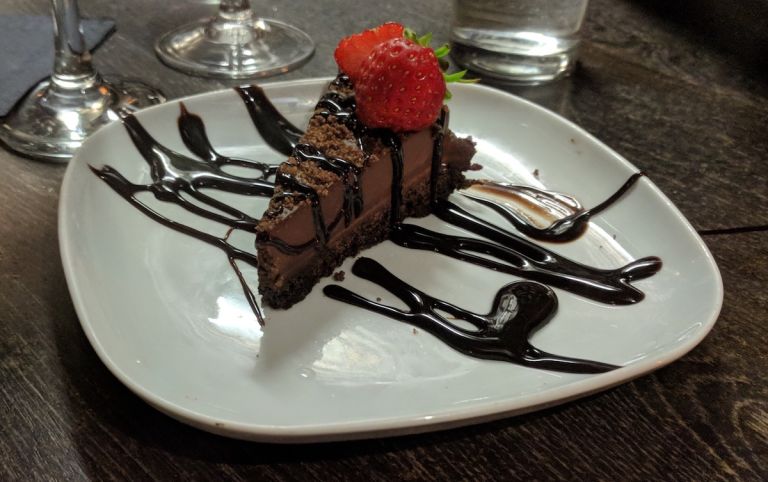 Orange and chocolate torte at the PHT (2019)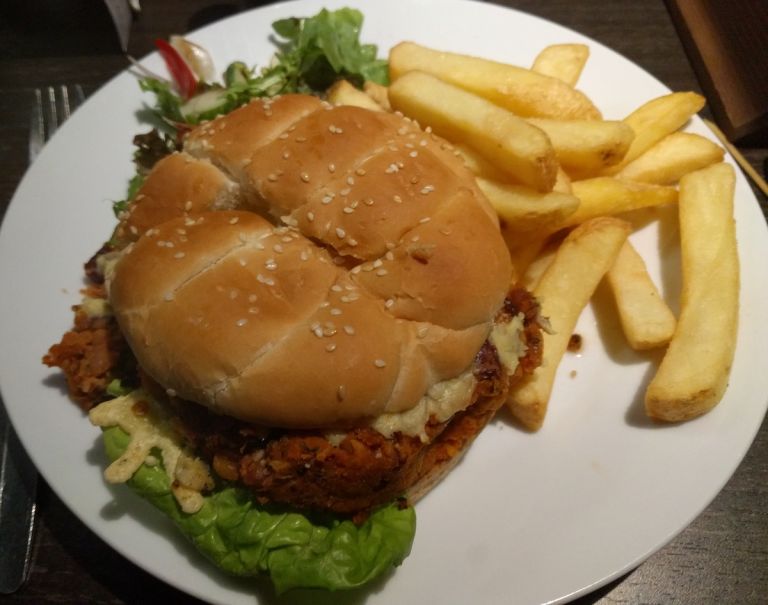 Vegan bean burger at the PHT (2019)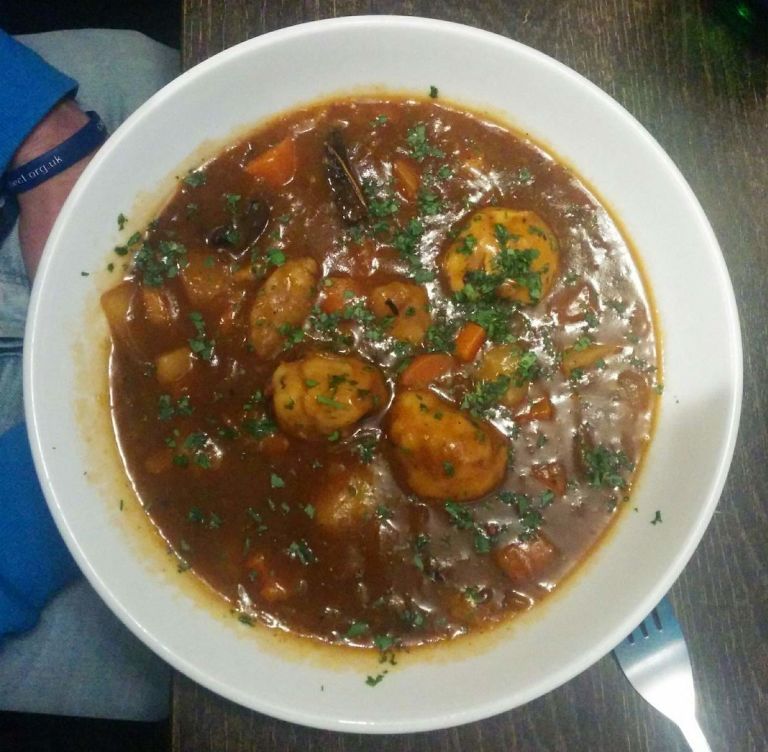 Fidlers vegan burger and mushroom straganoff (2018)
Lastly, the Old Pier Tearoom has recently started making vegan sausage rolls (2019). These are worth a visit to Lamlash.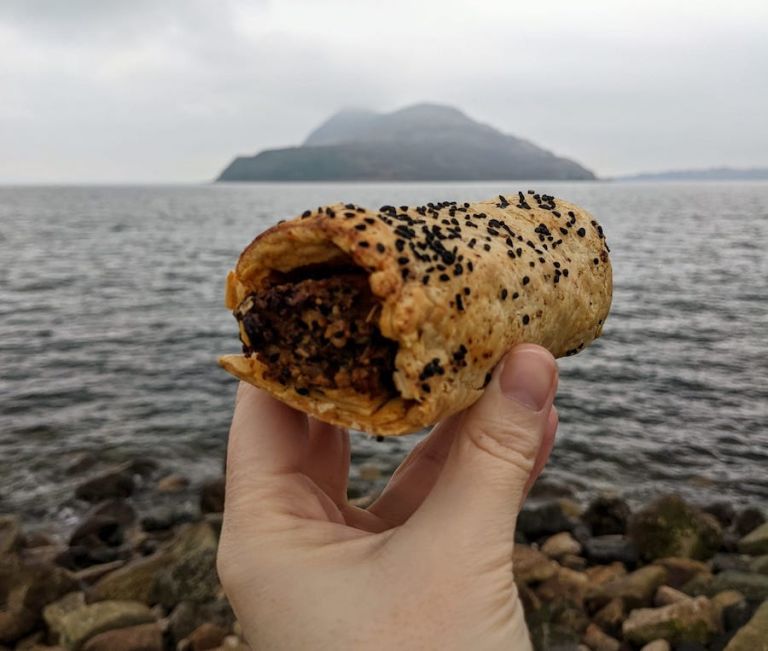 Vegan sausage roll at Old Pier Cafe (2022)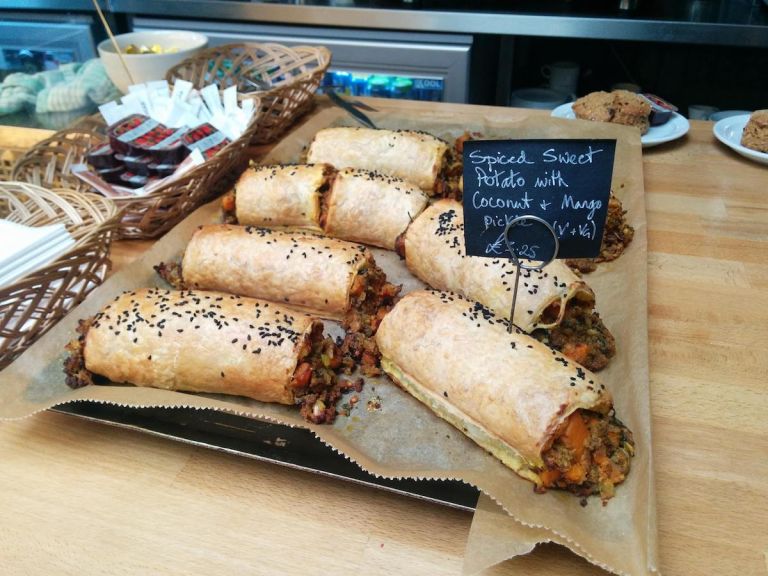 Vegan sausage roll at Old Pier Cafe (2019)
Whiting Bay
The next town south from Lamlash is Whiting Bay, which does have a few options - some of which we have tried out. There is a cracking cafe called the Coffee Pot that does a falafel burger (see below) and some homemade vegan cakes. Felicity's (now called MOST) also has a couple of vegan options and we've heard good things about the curry, so it's on our list to try! Below is a photo of some pizzas they sell - with and without vegan cheese.
The Shore opened in March 2019 and have emailed us to say that they will be doing vegan options soon (see second photo below).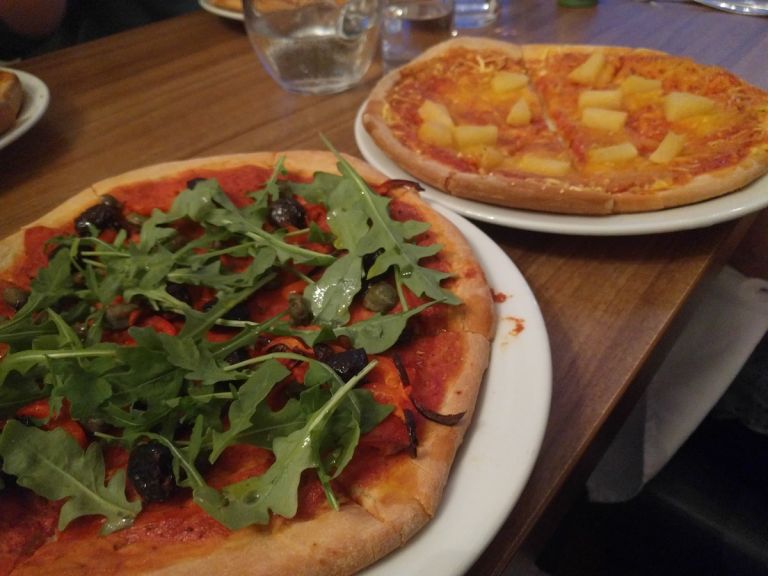 Vegan pizza at Felicity's in Whiting Bay (2019)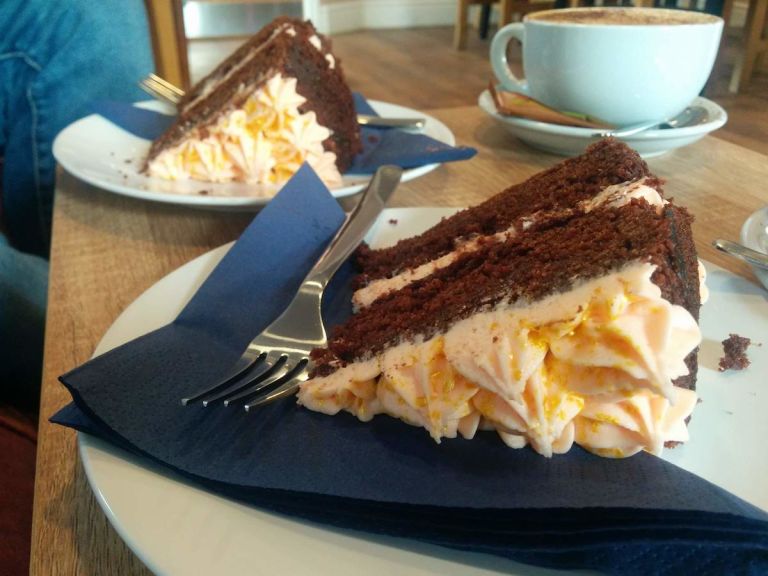 Vegan Victoria sponge at The Shore (2019)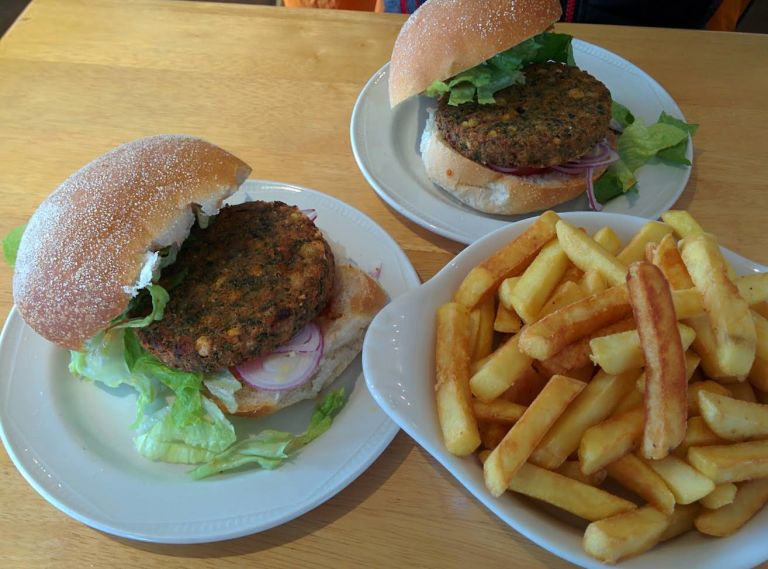 Fidlers vegan burger and mushroom straganoff (2018)
Whiting Bay also hosts Bay Kitchen and Store, where you can buy fresh produce, bread and supplies not to mention a tasty soya cappuccino. Well worth a visit in our opinion.
Lagg / Kilmory
Arran has a number of other villages, so there may well be other vegan options on the island that we've missed. Lagg Hotel and Cafe Velo at Kilmory have a couple of options for instance. The three bean chilli from 2019 is pictured below. We went to stay at Lagg Hotel 2021 and had some great food for dinner. Also pictured.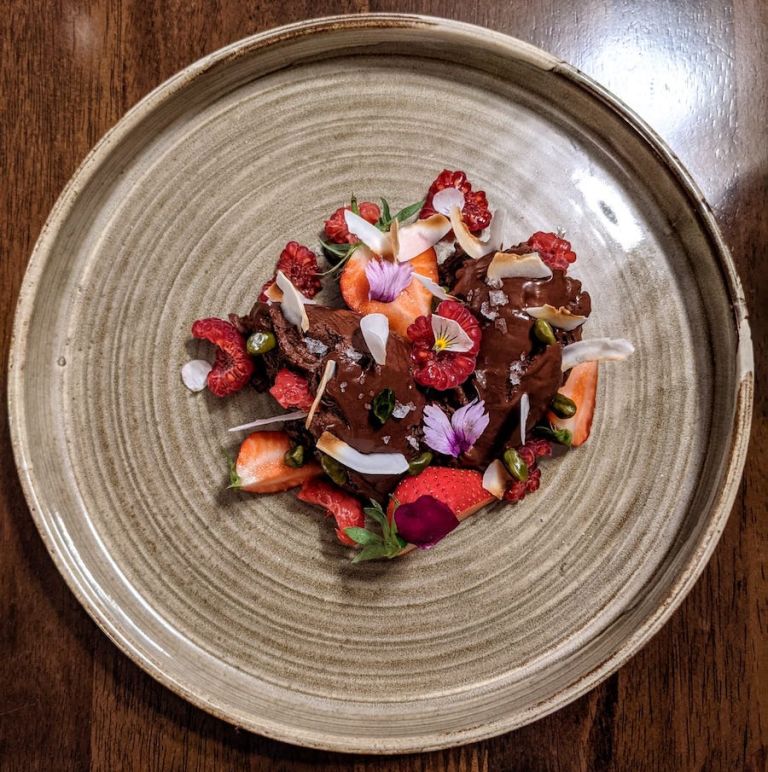 Dark chocolate mousse at Lagg Hotel (2021)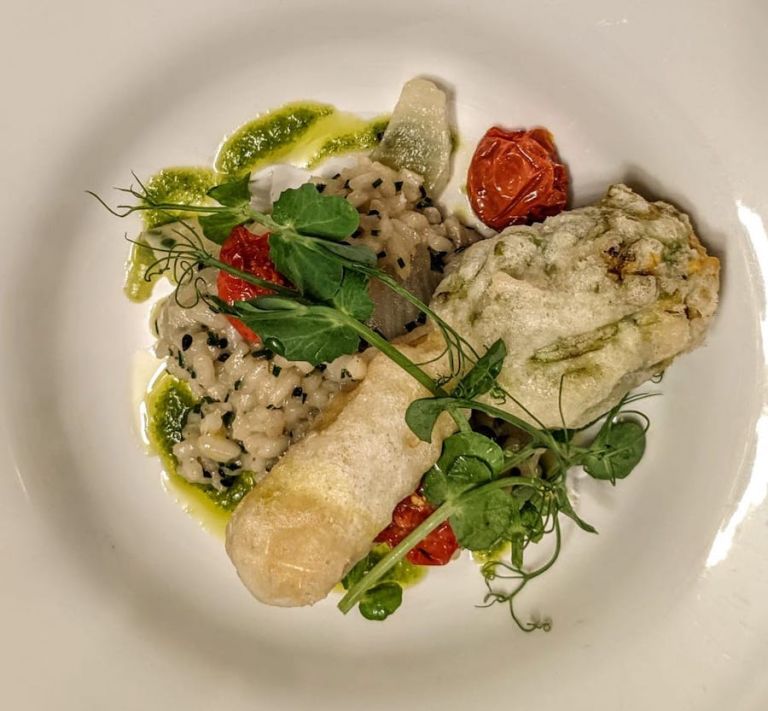 Pea risotto and courgette flowers at Lagg Hotel (2021)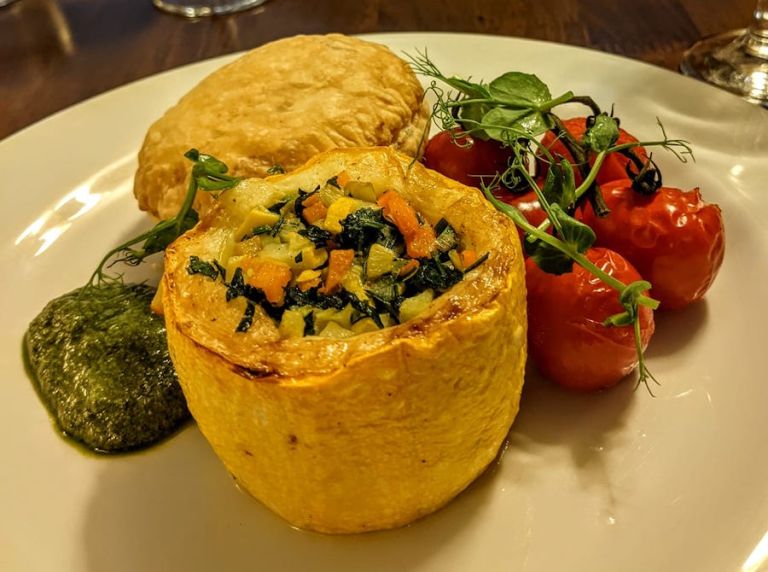 Stuffed marrow and mushroom pithvier at Lagg Hotel (2021)
Three bean chilli at The Wine Port (2019)
In June 2019, the new distillery at Lagg opened, which has some vegan food on the menu. In August 2019, we had the veggie burger and an Asian noodle dish a bit like ramen.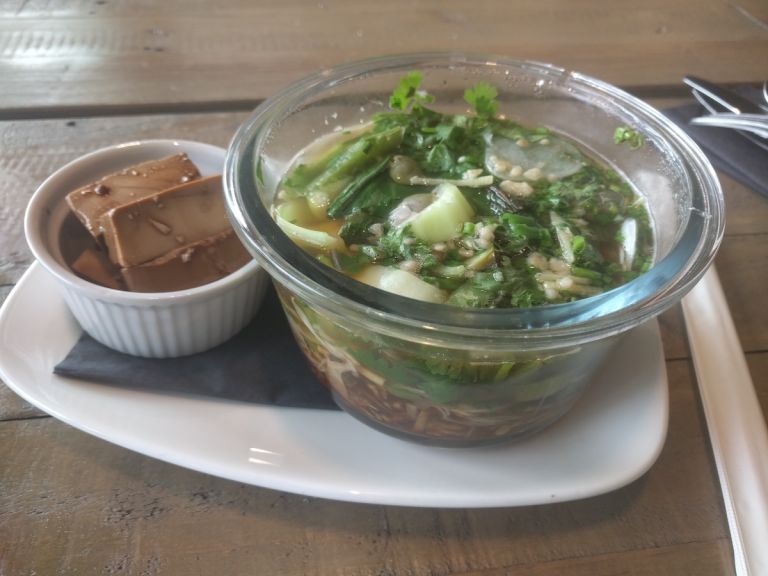 Asian noodles with tofu Lagg Distillery (2019)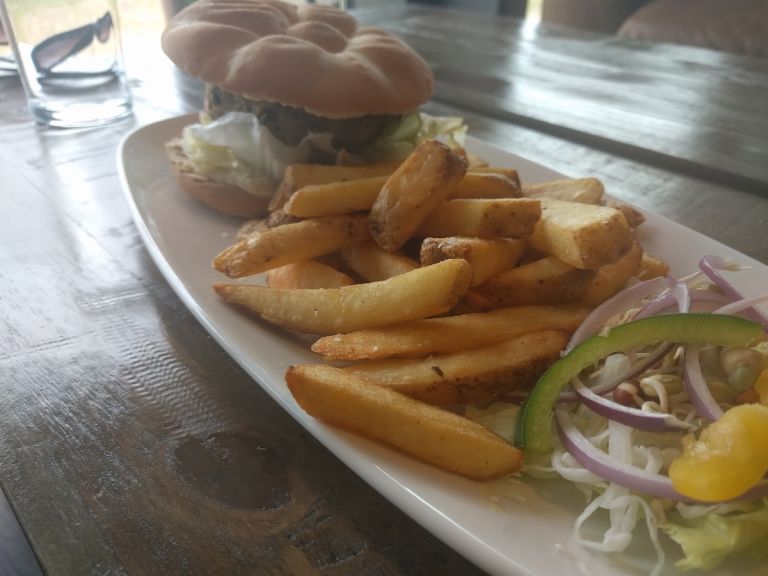 Veggie burger at Lagg Distillery (2019)
Arran Food Festival
Arran had it's first food festival in September 2022. We attended a few events where there was vegan food including a vegan breakfast at Stonewater House, Taste of Japan at Blackwater Foot Lodge (NOW CLOSED) and a vegan tasting menu at Brodick Bar (see Brodick Bar above).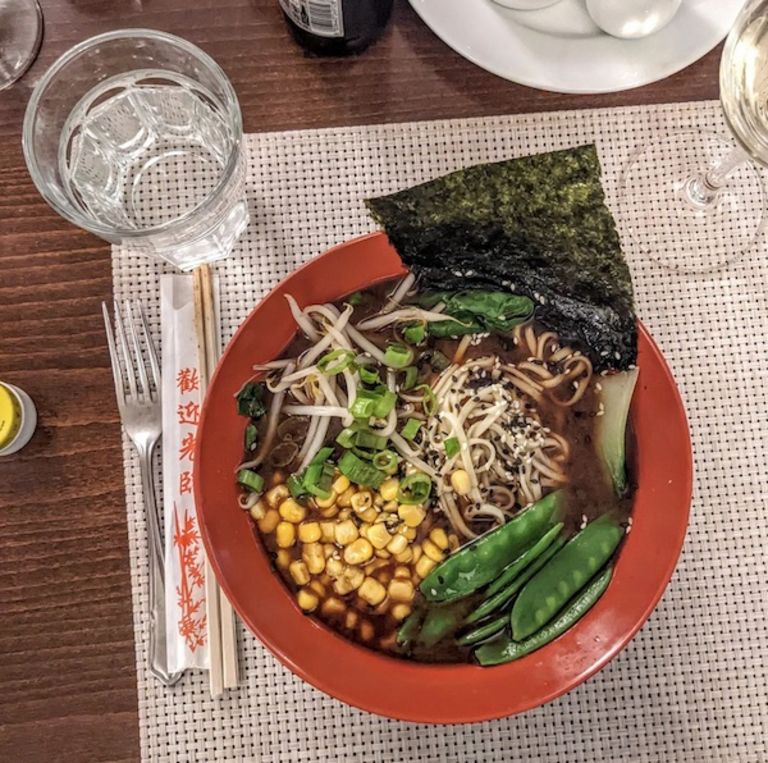 Mushroom ramen at Blackwaterfoot Lodge (2022)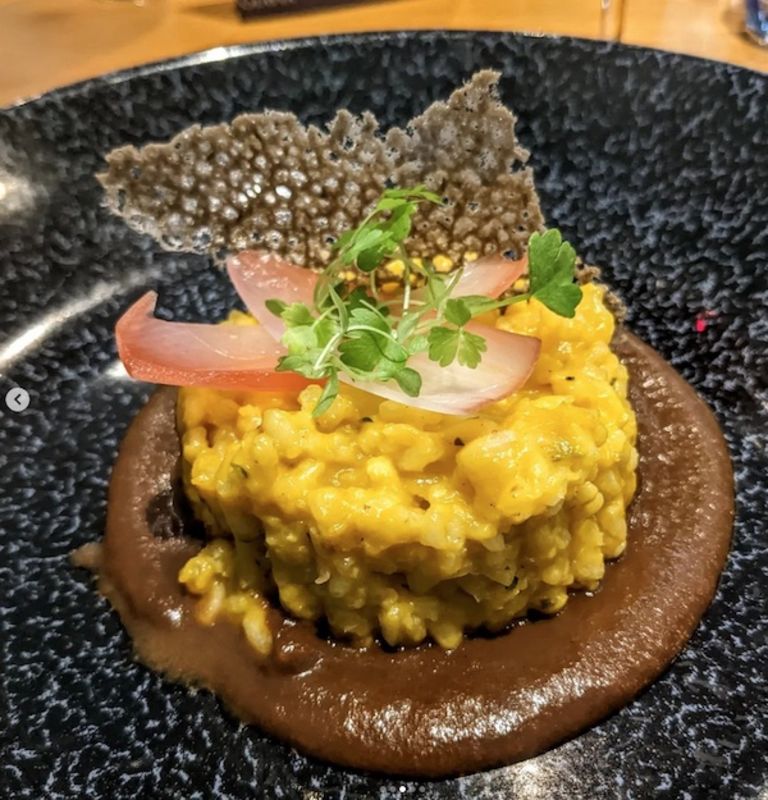 Carrot and sesame risotto and garlic puree at Brodick Bar (2022)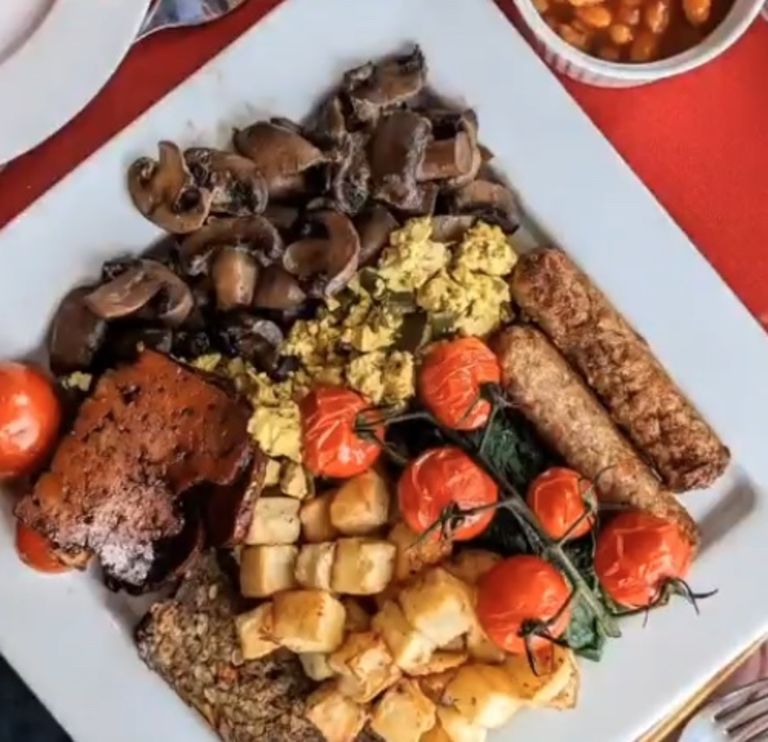 Vegan breakfast at Stonewater House (2022)
Our tip: always check opening times and menus by phoning ahead. The chefs change regularly, so new dishes are added and old dishes are retired.